Renowned BMW tuner G-Power has got its hands on the quad-turbo diesel-powered BMW M550d, giving it a big breath of performance. Not that it needs it.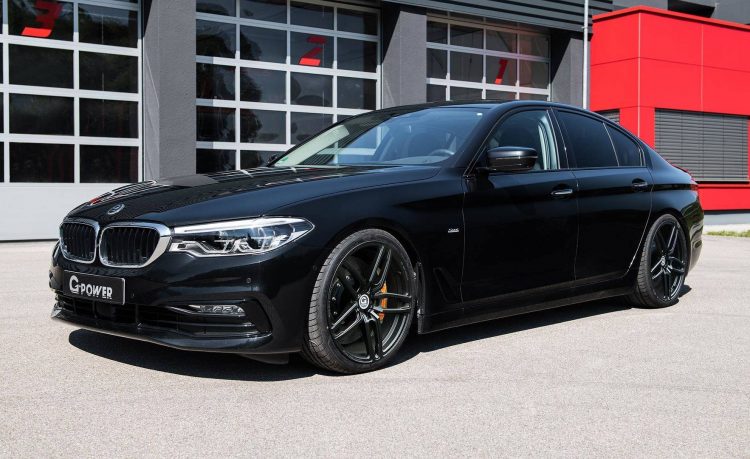 In standard form the 3.0-litre quad-turbo inline six found in the M550d xDrive (not offered in Australia, unfortunately) produces 290kW and 760Nm. It is the most powerful six-cylinder diesel ever fitted to a passenger car. Once G-Power has fit its D-Tronic 5 V1 external power module onto the factory computer, these outputs rise to 334kW and a whopping 860Nm.
A similar tune-up can also be applied to the 540d, lifting outputs from 235kW and 680Nm to 283kW and 750Nm. The 540d isn't offered in Australia, but it features a similar 3.0-litre inline six as the M550d only using a single turbo setup.
For petrol fans G-Power offers a tune for the 540i. It's 3.0-litre turbo inline six usually produces 250kW and 450Nm. But after the application of a Bi-Tronik 5 V1 power module, these outputs are boosted to 294kW and 540Nm.
G-Power says the power upgrades retain all of the factory diagnostic and engine protection functions, including the safe operating temperature limits set by BMW that don't allow the engine to be revved over a certain point when the engine is still cold.
To give the exterior a bit of a spruced up look to match the extra go G-Power offers a range of large alloy wheels. You can opt for 20-inch Hurricane RR units measuring 9.0 inches on the front and 10.5 inches on the back. Or, you can step up to 21-inch items. Either way, G-Power offers some eye-popping performance brakes to ensure deceleration matches the acceleration.
Check out the image gallery below to see how it all looks. We especially love the M550d tune as this would be an awesome sleeper to cruise around in.