The shape into which Australia's much-loved V8 Supercars series will evolve has become clearer, with more details outlined in a draft plan released by the organisation.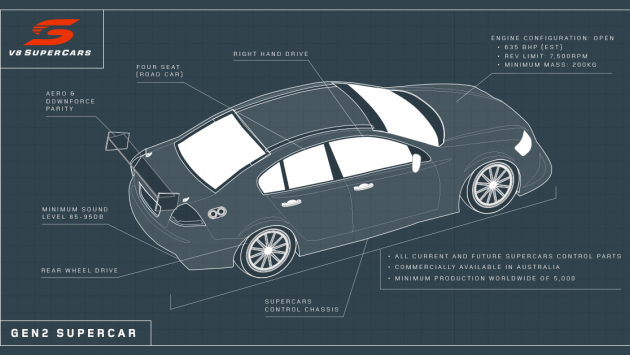 Following December's announcement that in 2017 the series would open up to four- and six-cylinder configurations – even dropping 'V8' from the name, soon called 'SuperCar series' – the newly-released draft outlines new requirements for entrants. Two- and four-door variants will be welcome, as long as the road car has four-seats and over 5000 copies are made worldwide. This raises the possibility of the Ford Mustang, Lexus RC and Mercedes C-Class coupe joining as potential entrants. The exhaust noise must be at least 85-95dB, for maximum spectacle.
The control chassis is rear-wheel drive, but this doesn't rule out adaptations of front-wheel drive cars, as the current Nissan Altima V8 Supercar has shown. Engine requirements are around 635hp (473kW) – a similar output to today's cars – but capped at a minimum 200kg weight. This raises questions about the inclusion of four-cylinder engines.
V8SC states it will be welcome, but given not many four-bangers weigh that much, will they be ballasted, and does this remove the incentive for that kind of diversity?
Prototypes of a Car of the Future chassis Commodore are reportedly doing the rounds, with a 3.0-litre twin-turbo V6 under the bonnet based on Cadillac's freshly minted unit. This could replace the 5.0-litre naturally aspirated V8 usually under the hood.
Once the new format kicks off, you can bet that fine-tuning of aero and the new regulations will take place to ensure parity. CEO James Warburton said,
"We made it clear when we announced the Gen2 strategy that there will be no compromise in power, competition or technical parity. The category in 2017 will be exactly what it is now. Fast, loud and fiercely competitive. This opens the same garage door a little wider and future proofs the sport."
This follows the 2013 switch to a 'Car of the Future' control chassis that included independent rear suspension, and opened up the series from the Ford-Holden duopoly it occupied since 1992, to new competitors. Building on this, as Australian carmakers have now announced their imminent exit, further plans to expand the series were announced last year, with two-door bodies and other engine configurations.
PerformanceDrive will keep you updated with future adrenaline-fuelled V8 Supercar announcements as they come. It should be an interesting era ahead for the sport.