With more rivals than a world-class boxer, does the Ford Kuga Titanium TDCi have what it takes to stand out from the crowd?
Buyers have a choice of three trim levels and two engines, depending on the model; either the 1.6-litre EcoBoost turbocharged four-cylinder producing 110kW and 240Nm, or the Duratorq 2.0-litre turbo diesel (Trend and Titanium models only) developing 120kW and 340Nm.
Starting from $27,990, the Kuga Ambiente is the only front-wheel drive model in the lineup, which also exclusively features a manual transmission and the EcoBoost 1.6-litre turbo engine.
Next is the Kuga Trend staring from $36,240, and then the top-spec Titanium model, beginning from $44,740. Both the Trend and Titanium models feature a dual-clutch six-speed Sportshift automatic transmission, and the petrol or diesel engine. The diesel adds $3000.
Ford Kuga Titanium TDCi – THE SPECS
Engine: 1.6-litre turbo-diesel four-cylinder
Output: 120kW@4000rpm / 340Nm@1750rpm
Transmission: Six-speed automatic
Drive type: All-wheel drive
Wheels: F: 19×8.0, 235/45  R: 19×8, 235/45
ANCAP: Five stars (scored 36.33 out of 37)
Kerb weight: 1749kg
Power-to-weight: 12.5:1 (kg:kW)
Official fuel economy: 6.4L/100km
Economy during test: 7.5L/100km
Fuel capacity/Type: 60L/Diesel
Power efficiency: 16kW:L/100km
0-100km/h as tested: 10.5 seconds
Priced from: $44,740 ($47,740 as tested)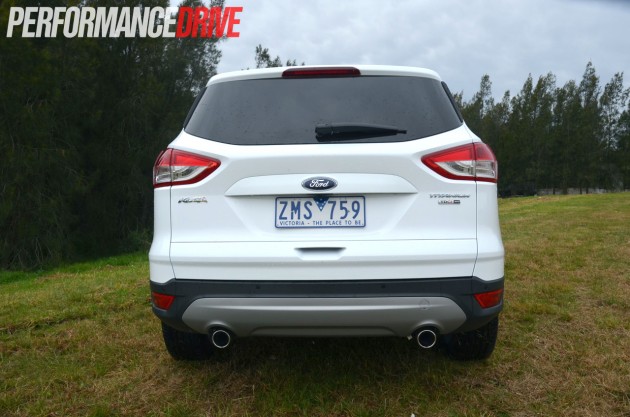 Ford Kuga Titanium TDCi – THE PACKAGE
The Kuga doesn't have the most spacious cabin in its segment, but it's certainly functional and feels robust. The boot offers 406-litres of space when the rear seats are upright, and a generous 1603 litres when laid flat. The boot's opening is also quite wide and perfect for moving house or carrying a big-screen TV.
The front occupants are welcomed with lots of headroom and legroom, however, in the back it is a little less kind. It's best left for two adults or one adult and three children. Headroom in the rear is good, it's the width that isn't so generous.
The Titanium model is fitted with a host of neat features such as satellite navigation that can be viewed on the in-dash five-inch colour screen, one of the nicest leather trims in its class for touch and quality, heated front seats, a panoramic sunroof, keyless entry, and a hands-free power tailgate that is conveniently activated by sweeping your foot under the rear bumper bar.
The cabin's overall styling runs in line with Ford's current theme. There are way too many buttons for our liking, and it's all a bit too futuristic. While the appearance is busy, all of the controls have a quality feel to them and are at arm's length.
The Sony audio system is laid out like a scientific calculator. The buttons are all over the place leaving you scratching your head in traffic when all you want to do is change the radio station. Users will find connectivity options such as Bluetooth, USB, and aux-in handy for phone calls and music.
The Kuga Titanium also features button-activated voice control that allows you to change radio station, or even the temperature if you're feeling a little cool, leaving you to focus on the road with both hands on the steering wheel. Like most of these voice-control systems, the technology is not quite flawless and sometimes misunderstands what you say.
One of the features that most people will like about the Titanium is active park assist. Once you turn it on, the system hunts for a free parking space using radar technology. Once a park is located, the system instructs you to select the appropriate gear, and from there all you need to do is control the throttle and brakes and the car takes care of the steering automatically.
Safety-wise, the Kuga comes with a host features such as stability control, front and rear parking sensors, emergency-call function, and seven airbags throughout. If you're willing to fork out an extra $2650, you can have the 'Technology Pack' fitted, adding active city stop (collision-prevention braking), adaptive cruise control that monitors the car ahead of you, blind-spot monitors, lane-keeping aid – a windscreen-mounted camera scans the markings on the road and applies steering torque to keep you in your lane – and auto on/off high beams.
The Kuga is available in nine different colours; Panther Black, Deep Impact Blue, Ink Blue, Ginger Ale (gold), Burnished Glow (bronze), Sterling Grey, Race Red, Moondust Silver, and Frozen White. All colours except Frozen White and Deep Impact Blue add $385 (prestige paint).
Ford Kuga Titanium TDCi – THE DRIVE
The Kuga is a composed road-goer that isn't afraid to get its paws dirty on and off the road. The steering is well weighted and is as sharp around town as it is out on the open road. At speed, mid-corner bumps and general road imperfections don't upset the Kuga, even with five people on board and a boot-full of gear.
Overall the Kuga's ride is quite firm, and at times it can become a little tiresome, especially if the road is littered with pot holes. The upside is the Kuga's firm ride means it's less prone to body roll in the bends.
The 2.0-litre TDCi is a powerful-feeling unit that meshes well with the six-speed dual-clutch automatic. It surges off the line without fuss, clocking 0-100km/h in a respectable 10.5 seconds. Roll on acceleration feels gutsy, meaning you spend less time on the wrong side of the road when overtaking. The Duratorq engine doesn't make the prettiest sound though, but it sure does dish up a meaty mid-range torque curve.
Average fuel economy for the duration of our test was 7.5L/100km during mixed driving conditions, 1.1L above the official average of 6.4L/100km. In the right hands, we have no doubt you could get the figure down to low 6s or even high 5s.
The Kuga's braking ability is more than adequate, with repeated presses of the pedal never upsetting the performance. The Kuga has a braked towing capacity of 1500kg, with the unbraked maximum exactly half of that.
While we didn't take the Kuga up Mount Kosciuszko, we did test it through a rough series of off-road trails. To our delight, the Kuga behaved very well at speeds well above what we'd call ideal, with steering remaining direct, and grip levels from its road-going tyres maintaining good cornering ability. Grip from the Kuga's AWD system also felt very intuitive and responsive to wheel slip.
Ford Kuga Titanium TDCi – THE VERDICT
The Ford Kuga is one of those cars that makes commuting feel easy and effortless. The 2.0-litre turbo-diesel engine is worth forking out the extra $3000 purely for the extra 100Nm on offer over the EcoBoost petrol.
It might sit in an overcrowded segment, however, it shines bright and should be on your short list if active, easy, and comfort are things you're looking for.
PROS:
– Communicative handling for an SUV
– Interior comfort
– Lots of tech (Technology Pack option is a must)
– 2.0-litre TDCi diesel – torque aplenty
CONS:
– Firm suspension
– Rearward vision
– Dash is cluttered
– Dual-clutch transmission is indecisive at times
Ford Kuga Titanium TDCi – THE COMPETITORS
Honda CR-V VTi-S AWD (auto only)
2.4-litre four-cylinder – 140kW-222Nm – 8.7L/100km – 1580kg – from $36,290
Hyundai ix35
 SE CRDi AWD (auto only)
2.0-litre turbo-diesel four-cylinder – 135kW-392Nm – 7.5L/100km – 1706kg – from $34,990
Kia Sportage SLi AWD (auto only)
2.0-litre turbo-diesel four-cylinder – 135kW-392Nm – 7.5L/100km – 1588kg – from $35,990
Mazda CX-5 Maxx Sport TTD AWD (auto only)
2.2-litre twin-turbo diesel four-cylinder – 129kW-420Nm – 5.7L/100km – 1633kg – from $39,470
Mitsubishi Outlander LS TD AWD (auto only)
2.2-litre turbo-diesel four-cylinder – 110kW-360Nm – 5.8L/100km – 1610kg – from $40,990
Nissan X-Trail TS AWD (auto – manual available)
2.0-litre turbo-diesel four-cylinder – 110kW-320Nm – 8.1L/100km – 1566kg – from $38,690
Toyota RAV4 GXL (manual only)
2.2-litre turbo-diesel four-cylinder – 110kW-340Nm – 5.6L/100km – 1660kg – from $38,990
Volkswagen Tiguan 103TDI AWD (auto – manual available)
2.0-litre turbo-diesel four-cylinder – 103kW/320Nm – 6.6L/100km – 1630kg – from $38,490