In its 56-year lifespan, some of the Falcons that have left Broadmeadows production line were serious weapons. From collector's items, to race winners, to tuner's delights; here are 10 of our favourites. Feel free to tell us in the comments section below if you think another fast Falcon warranted inclusion but missed our list.
10. EL GT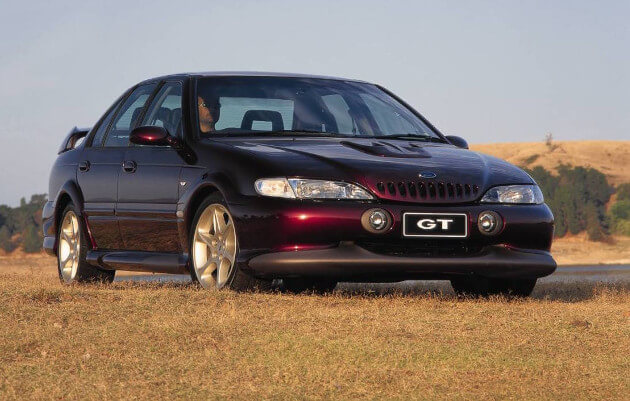 The 30th Anniversary EL Falcon GT really lived up to the Grand Tourer name. Its styling polarised, but you can't deny it had a sinister presence. With a luxuriously appointed interior, carbon-fibre wrapped prop-shaft and a 5.0-litre Windsor V8 with 200kW and 420Nm, the EL GT weighed just less than 1700kg. Best 0-100km/h times of 6.97 seconds and a 15-second flat quarter mile was recorded, and the 230km/h was verified. These are now very collectible.
9.ED XR8 Sprint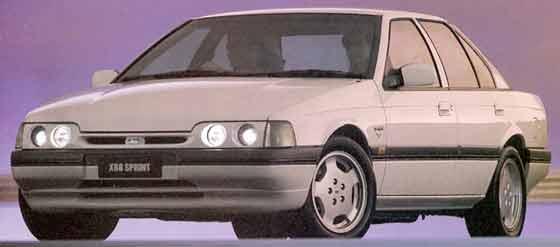 Ford's XR8 Sprint basically had the same driveline as the EB GT from a year before, but with a 70kg lighter body. The relatively innocuous-looking XR8 Sprint kept many a Clubsport of the day honest, with regular 15-second quarters and 230km/h of top whack.
8. XC Cobra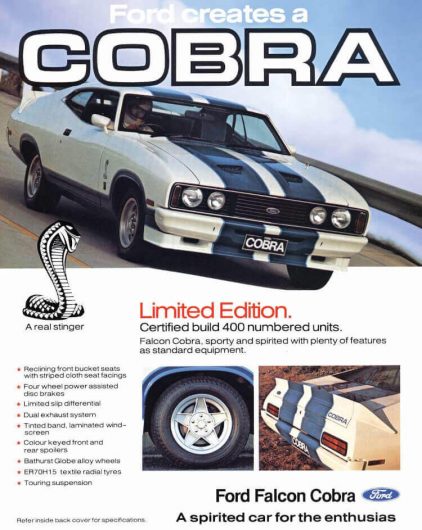 One of the best-looking and most famous Falcons built. The 1978 Cobra used the last 400 Falcon hardtop body shells, and either a 4.9 or 5.8 V8. The 5.8-litre produced 162kW and 429Nm, sent through a four-speed toploader or three-speed automatic. Best 0-100km/h times of 8.9 seconds and a quarter mile of 16.0 seconds were recorded, which were very impressive at the time.
7. XY GT HO Phase III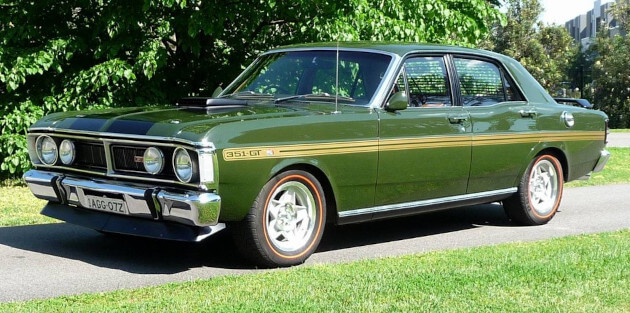 Easily the most recognisable Falcon, perhaps this side of the Mad Max Interceptor. The Phase III held the mantle of the world's fastest production sedan for a long time. The standard GT was a pretty rapid thing at the time, to which the HO added a 164-litre fuel tank, Detroit locker differential, and power upgrade thanks to 780cfm Holley carburettor and engine modifications. Although stated as having 224kW, it's widely accepted the Phase III had something more in the region of 285kW. 0-100km/h times of 6.4 seconds, with a 14.2-second quarter mile, on its way to a 225km/h top speed – famously verified by Wheels magazine's Mel Nicholls in a photo taken on the Hume Highway in 1971.
Examples have changed hands for as much as $750,000, and they are getting thin on the ground.
6. AU3 TE50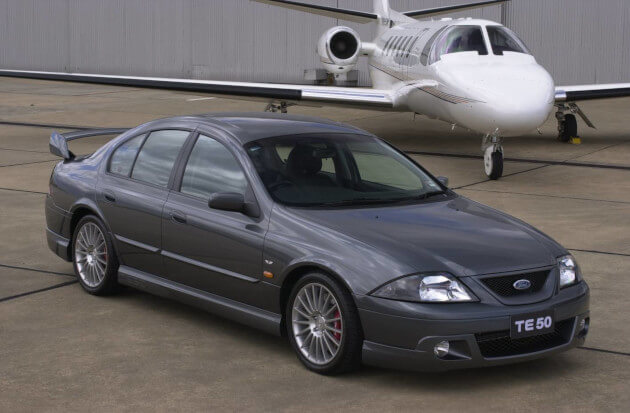 The series III T-series was the first real challenge to Holden and HSV's performance dominance since the 1980's. Using a 5.6-litre stroked Windsor V8, outputs of 250kW and 500Nm matched the Chevrolet-derived HSVs of the day, with superior torque. 0-100km/h of 5.86 and a 14.18-second quarter are among the best times recorded, with an awesome bodykit and the best note of any Falcon?
5. XR6 Turbo / FPV F6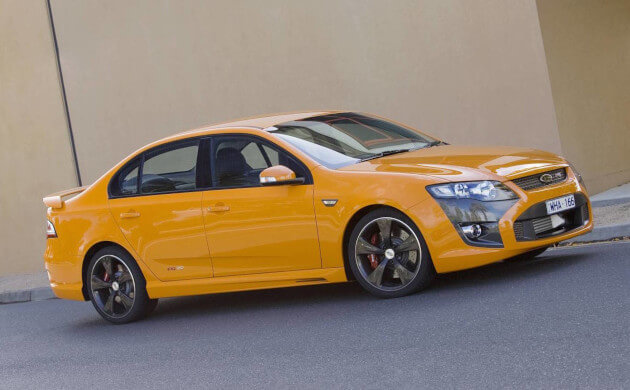 The car that opened Ford up to the tuner world, formerly dominated by the Holden Commodore VL Turbo, the XR6 Turbo gave performance enthusiasts a real alternative to the V8 engine. Many street-driven examples are capable of quarter miles as low as 10 seconds, while in factory trim, the FG XR6 Turbos and F6's consistently dip below five seconds for 0-100km/h. Many reviewers say there is room for improvement, save for traction issues, which can perhaps be remedied by a quick wheel and tyre upgrade.
4. DJR 320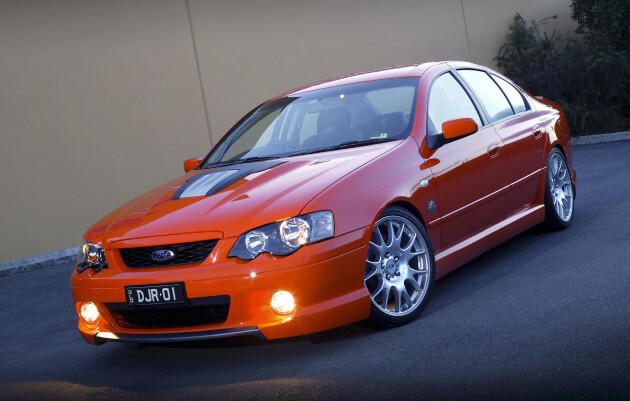 A collaboration between Dick Johnson Racing and Herrod Motorsport in 2004 to create a model above FPV's GT-P flagship saw the DJR 320 come to fruition. With a 320kW tuned 5.4-litre V8, 245 front/285 rear 19-inch wheels, a unique plastic bonnet panel, huge brakes and major suspension revisions, the car commanded a $90,000 price tag, which meant it wasn't very popular. Performance data is unavailable.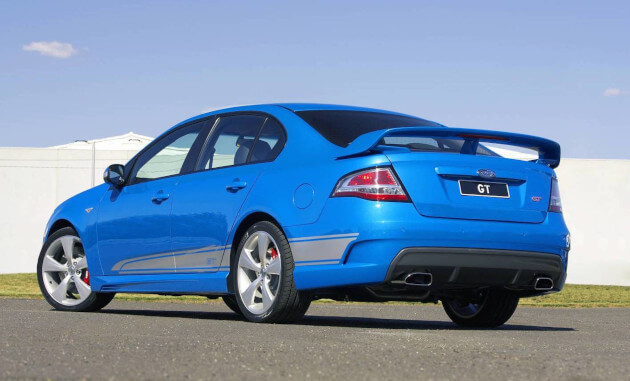 FPV's supercharged Miami V8 engine breathed new life into the FG range, being both lighter and more powerful. Generating 335kW and 570Nm, the engine was universally praised, and outstripped the chassis by a considerable margin. 0-100km/h times of under five seconds were consistently achieved, with aftermarket examples proving how much potential lies beneath.
2. FPV GT-F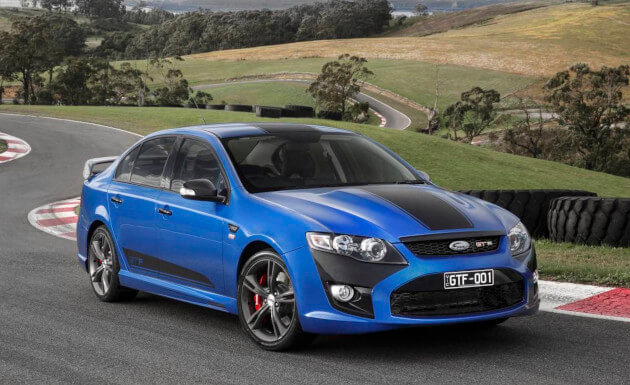 The final GT-based Falcon was quoted at 351kW, but a few dyno tests have found it to have over 400kW, thanks to a transient overboost function. With wider rear tyres, the GT-F has recorded 0-100km/h times as low as 4.46 seconds and 12.6 seconds for the 400m elapsed time. So far it is the fastest factory Falcon, but for how long?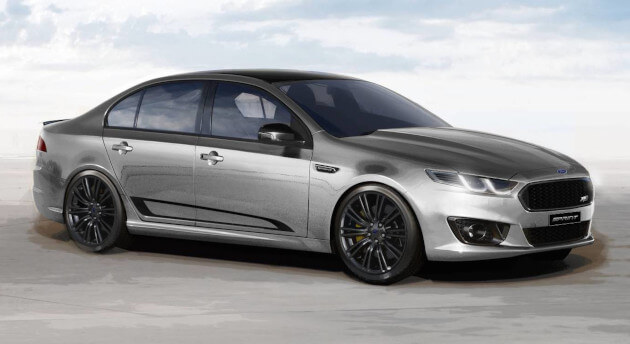 It will be the last ever performance Falcon. The upcoming XR6 Sprint will no doubt be a very special icon Ford has confirmed it will use a 4.0-litre turbo inline six generating 325kW, with, incredibly, an overboost function that provides bursts of 370kW. The XR6 Sprint will be one of the quickest Falcons to ever grace the land. Its brother, the upcoming XR8 Sprint, will be just as thrilling, offering up to 400kW during overboost with its 5.0-litre supercharged V8.