As we near the end of the road for Australian car manufacturing, we thought it would be a good time to reflect on some of the more obscure moments in Aussie motoring history. For a considerable chunk of time Australian cars were exported to various parts of the world, some versions of which were not seen here and are unknown to all but a handful of people. We lift the lid on some of the most surprising franken-cars you've never heard of.
2.0-litre Holden Commodore
As far as many people know, the 1.9-litre 'Starfire' 58kW four-cylinder featured in early Commodores scared Holden from experimenting with the idea of a four-banger-powered Commodore again. Not so, it would seem. In New Zealand, the same engine continued into the VK series despite being discontinued here. Un Zud seems to have a curious fetish for small-engined cars, because their VL was available with a smaller RB20 2.0-litre straight six as well, while the VN copped the Camira's Family II 2.0-litre four-cylinder with an Earth-shattering 91kW and 175Nm. It must be said though, the VN was very light and a notorious death-trap when paired with anything larger. Other bizzare NZ specials include a HSV GTS available with a V6 for VN and VP series, and a Royale spec, which we'll touch on later.
Mazda Roadpacer AP
Mazda of Japan needed a flagship sedan in the 1970s and sourced a body from none other than Australia's own Holden – quite bizarre considering the later acquisition by Ford. The donor HJ/HX Premier's width and generous dimensions were worthy of competition with Toyota's stately Century and Mitsubishi's umm… debonair Debonair. Out went Holden's evergreen red 186/202 engines, and in went Mazda's 13B Wankel rotary from the RX series and Cosmo. In addition, Japanese-spec guard-mounted mirrors, a fridge, a Dictaphone, central locking and rear stereo controls were added, befitting its status. The chook-cooker spun out 100kW, but a mere 138Nm to lug around 1575kg resulted in dismal fuel economy and slow progress. While only 500 were sold, they are now considered very collectible.
Chevrolet Kommando/Constantia
Holden was sold as a marque in South Africa until the late 1960s, where Chevrolet took over. The Kommando and Constantia were HJ-HQ series Kingswood and Statesmans with different front-end treatment, and the Chevrolet '250' 4.1-litre six in place of the ubiquitous 202. They were exported from 1969 to 1978.
Ford AU Falcon Taxis to Hong Kong/Malaysia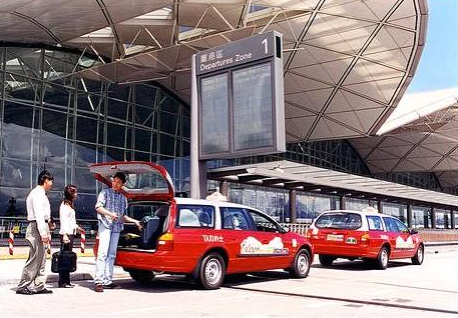 An experiment in 2000 saw the then-new factory dedicated LPG Falcon sent to HK, in wagon form. Between 10-20 were sent there, before they were deemed noncompetitive with local offerings. Nevertheless, it did manage a brief movie cameo in a local film.
Verte Tempest/AC Mamba
At the start of the last decade, a venture between AC Cars, of Cobra fame, and a Melbourne businessman saw the AU XL and XLS LPG utes exported to England as the Verte Tempest. A proposed AC Mamba, utilising the Falcon's 4.0-litre straight six in petrol and LPG forms, never saw the light of day, and the Tempest didn't sell particularly well either. Ungrateful bastards.
It's a shame the Mamba never went beyond the clay model phase, as we think it could have made an interesting TVR rival, and spread the good word about our home-grown six.
Mitsubishi Diamante
From 1992, Mitsubishi's Verada was exported to North America as the Diamante, which was the Japanese equivalent of the KR/KS Verada – its elongated chin designed to meet US crash regulations. Diamante wagons were even exported to Japan from Tonsley Park. From 1997, KE Veradas were sent to the USA to compete with Lexus and Cadillac offerings. They were popular until 2004, when exchange rates and poor sales killed off the program. We think Oliver Boulay's beak-nose restyle with the KL probably didn't help either.
Opel Calais/Royale
For those of you who thought the straight-six powered Commodore died with the VL, prepare to be shocked. Between 1995 and 1998, a small handful of VR and VS Commodores were exported to Singapore and Malaysia, badged as the Opel Calais. Instead of the Buick/Ecotec V6, however, one would find six-in-a-row of Opel's finest, 2.6-litres and 110kW worth. Normally fitted to the Opel Senator and Omega, the smaller capacity engine catered to the capacity tax of those nations, but still cost the equivalent of $200,000 due to harsh import tariffs. For VS, this was switched to the 2.5-litre V6 seen in our Vectra (with 125kW and 227Nm). Orders were cancelled towards the end of 1997, leaving Holden with a bunch of unwanted VS Commodores with tiny powerplants. The solution came with New Zealand's less stringent design rules, which facilitated them being sold as the Holden Royale, alongside the Calais. The Royale was a spec between Berlina and Calais in New Zealand, typically available with the smaller engine option in addition to the larger one.
Buick Royaum/Park Avenue, Daewoo Veritas
From 2005, China got a taste of our beloved Stato, known there as the Buick Royaum. In addition to the 3.6-litre 'Alloytec', a smaller, 2.8-litre version with 155kW was available, using the same displacement as the Saab turbo engine also made in Australia. This was done to skirt China's capacity-based tax system. When it was replaced with the WM-series Statesman/Caprice it was renamed the Park Avenue and made locally until 2012.
South Korea briefly received the Caprice as the Vertias, with features not seen here, including massagers for the rear seats.
Chevrolet Caprice PPV
In 2009, after the cruel death of the Pontiac G8 (Commodore), the WM-based Chevrolet Caprice PPV was announced, but not available to civilians. The interior was pared-down to Omega-spec, while the car featured several enhancements to make it suitable for civic duty. Some detective-spec Caprices have found their way to civilian duty, where the Chevrolet Caprice had been absent since 1996. The PPV was updated in line with VF to include a column shifter and reverse camera, and will continue to be exported to America until the factory closes in 2017. This goes to show that rear-wheel drive is preferred for police duties, and is proof that Aussies make the best police cars?
Telstar wagon and JJ Camira
Although Ford and Holden NZ ostensibly sourced their Telstars and Camiras from Australia (or local assembly plants where applicable), two models that never saw Australian soil snuck in from Japan– again – Kiwis have far more lax import laws. Their Japanese Telstar was essentially a rebadged Mazda 626, without as many cosmetic differences as the Telstar we knew and loved (?), while in 1984 GM-H NZ decided to source the JJ Camira – a rebadged Isuzu Aska, also built of the GM J-car matrix instead of our JE equivalent.
Notable mentions:
-The Commodore and its platform mates have been known internationally as the Chevrolet Omega (Brazil), Vauxhall Monaro (UK), Vauxhall VXR8 (UK), Chevrolet Lumina, El Camino ute (Middle East, South Africa), Opel Calais (Asia), Chevrolet Caprice (Middle East and USA), Pontiac GTO, G8, Chevrolet SS (USA), and the Buick Royaum/Park Avenue (China), Daewoo Veritas (South Korea).
-Between 1982-83, Mitsubishi Sigmas were exported to the UK as the 'Lonsdale'.
British coachbuilding company Coleman-Milne has sourced various Fairlanes and FG Falcons as use for funeral vehicles, examples of which were visible in Top Gear's British built special in 2014, and are still available. How appropriate, given Falcon's impending mortality.