Perhaps the most stunning Mercedes-Benz model currently in the showroom, the Mercedes-Benz SLS AMG Gullwing, is about to get even hotter. Think Mercedes-Benz SLS AMG Black Series and SLS AMG GT3 for the street.
(BRABUS SLS AMG shown for illustration purposes only)
In order for Mercedes-Benz AMG to pass homologation rules of GT3 racing, the company is required to produce a number of street versions of its Mercedes-Benz SLS AMG GT3 race car. The SLS AMG GT3 street version is likely to be built in limited numbers however, and only available in Europe. Official specifications and production is yet to be announced.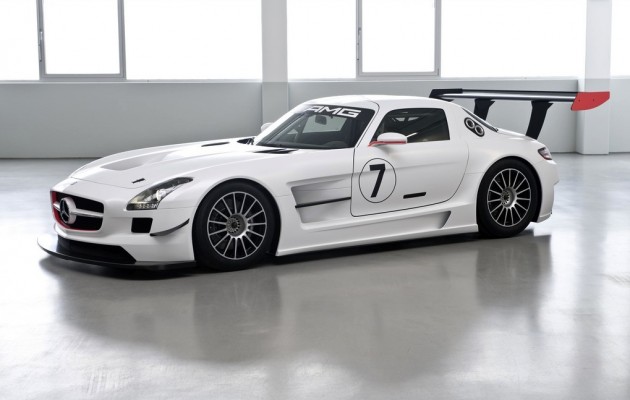 As for a Mercedes-Benz SLS AMG Black Series though, it could be a bit more mainstream. Head of vehicle development at AMG, Tobias Moers, recently told Motor Trend in the US that, "We absolutely have to do a Black Series".
What kind of epic monster will a Mercedes-Benz SLS AMG Black Series consist of? Well, official details are also yet to be finalised but speculators expect it to feature the usual array of mouth-watering revisions over the normal SLS AMG Gullwing.
These could include, but certainly not limited to, uprated brakes, more heavy-duty performance/track-oriented suspension, more power from the 6.2-litre naturally aspirated V8 – which already offers 420kW – and a kitted out interior with soft Alcantara surfaces and bucket seats.
Other features could include ultra-muscular pumped wheel arches front and rear – like the new Mercedes-Benz C 63 AMG Coupe Black Series – new lightweight wheels, and possibly some carbon fibre styling and aerodynamic tweaks. Overall weight would be reduced somewhat over the standard 1620kg mass.
We'll be watching this one closely. Stay tuned for more updates in the near future.
Also check out:
– Video: Nissan GT-R beats 11 of the world's best driver's cars in mega drag race
– Video: Chris Harris laps the Nurburgring in a Mercedes-Benz SLS AMG
– Mercedes-Benz SLS AMG 0-100-0 Challenge phone app released