For the past few weeks Lexus has been releasing teasers of its soon-to-be-revealed new F model. The company has now confirmed, via an invitation, it will be introducing the RC F at the Detroit Auto Show next month.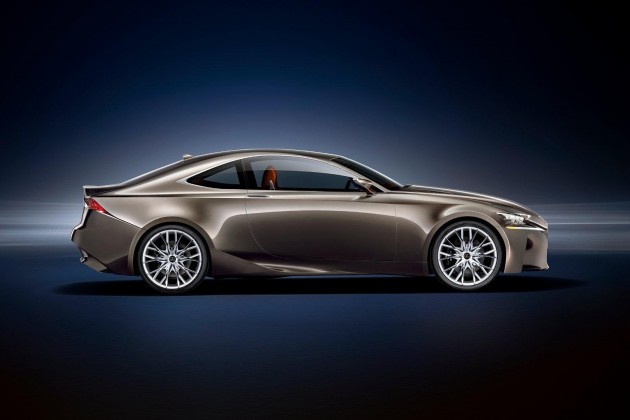 As suspected, Lexus is planning to introduce a high-performance version of the new RC model. The RC is essentially a two-door coupe version of the IS sedan, with the RC F set to be the replacement for the IS F sedan. It's unclear at this stage if the IS F sedan will continue.
The company not only revealed the nameplate but also some specs on the engine, with the invitation saying the RC F "will carry a 460hp V8 under the hood".
The power figure (343kW) is quite a lot more than what is offered in the current IS F, which pumps out 311kW and 505Nm. Although the capacity is yet to be revealed, it's believed the RC F will use a tweaked iteration of the IS F's 5.0-litre naturally aspirated V8.
It's also expected to be matched up to the brilliant eight-speed sports automatic transmission with a solid limited-slip-differential-equipped rear end. The formula is likely to see 0-100km/h times in around 4.5 seconds, or around 0.4 seconds quicker than the current IS F.
Market entry dates are yet to be announced, however, all details will be uncovered at the car's unveiling at the 2014 North American International Auto Show in Detroit. The show runs from January 13-26.
(Above image: Lexus LF-CC concept)