German tuning company Carlsson, famous for ruffling the feathers of standard Mercedes-Benz vehicles, has come up with a special Mercedes-Benz S600 CS 60 Royale tuning pack, specifically for the Chinese market.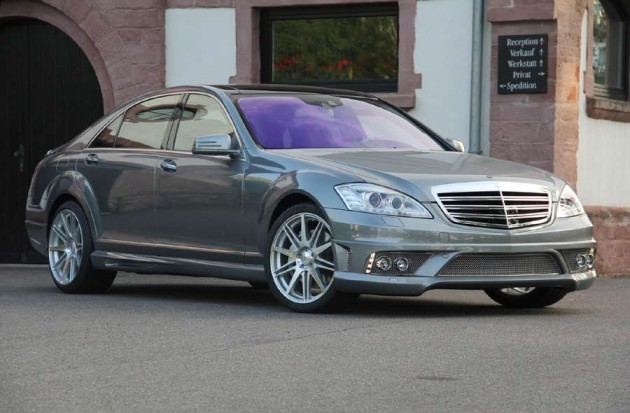 The car is based on the Mercedes-Benz S600 – yep, the one with the mammoth 380kW, 830Nm, 5.5-litre twin-turbo V12 – but features momentous engine modifications, as well as equally vast interior and exterior revisions.
Power for the Mercedes-Benz-derived Carlsson CS 60 Royale is up from the 380kW found in the stock Mercedes-Benz S600, to a very scintillating 448kW. This is thanks to subtle modifications such as a sports exhaust and an ECU remap.
With the changes, torque figures have blown out to 1024Nm from the standard 830Nm, enough to see the Carlsson CS 60 Royale missile from 0-100km/h in 4.3 seconds – quicker than an Aston Martin DB9.
Inside the Carlsson CS 60 Royale is a range of classy extras such as sill plates with blue illumination, head set logos, and a metallic plaque displaying the the build number and the signature of Carlsson president, Mark Schuster.
Exterior modifications are arguably the giveaway that the Carlsson CS 60 Royale means serious business. A new front lip, front and rear bumpers, and side skirts are enough to make Mercedes-Benz fans, or even just luxury cars fans in general, weak at the knees.
If those body appointments don't do it for you, then the new stainless steel front grille, new fog lights, LED daytime running lights, and 1/10 Brilliant Edition lightweight 20-inch alloy rims will just about seal the deal that is one of the imposing luxury sedans on the planet.
In Australia, the Mercedes-Benz S600 costs $412,000 plus on road costs. How much for the Carlsson CS 60 Royale? At the moment there are no plans that the Carlsson CS 60 Royale will be made available in Australia, but if you're keen enough, and have enough money, we're sure it's possible. If you're interested, contact Carlsson's Australian partner, Ramspeed, as they should be able to help.