Patent images of an Audi RS 5 Cabriolet have been found, providing sure-fire proof that the future Audi lineup will include a high performance Audi A5-based convertible.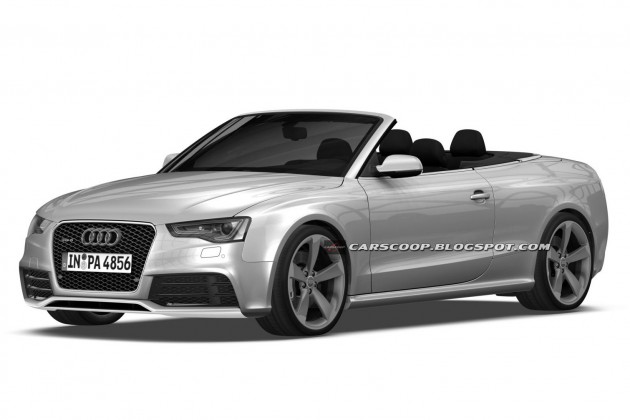 These images, first found by Carscoop, show what the new Audi RS 5 Cabriolet will look like. The new most powerful Audi Cabrio will feature the new facelifted 2012 Audi A5 front end with slightly tweaked headlights, front fascia and bumper bar design over the existing range.
Like the 2012 Audi RS 5 Coupe, which was unveiled at the 2011 IAA Frankfurt Motor Show, the Audi RS 5 Cabriolet will also come with the usual array of Audi 'RS' goods, including aggressive body styling, high-performance brakes and lowered sports suspension.
Power is expected to come from the same 4.2-litre naturally aspirated V8 as seen in the Audi RS 5 Coupe, as well as the Audi RS 4, albeit somewhat revised. The unit pumps out 331kW of power and 430Nm of torque. One of the attractive characteristics of the engine is its willingness to rev, offering peak power at a screaming 8250rpm.
Like all Audi RS models, the Audi RS 5 Cabriolet will feature an all-wheel drive system. This is said to be backed up by Audi's S tronic seven-speed dual-clutch sports automatic transmission.
As for official acceleration and performance figures, Audi Australia is yet to confirm local specifications. A launch is likely to take place in the near future though. We'll keep you updated on local pricing, specifications and release dates as soon as they are released.