Have you ever wondered what all those boxy American police sedans were from the 1980s in American movies and television shows?
Here we take a closer look at those conservatively-styled box-shaped sedans, which were designed to Serve and Protect, to see exactly what police car fleets consisted of back in this decade.
This list also features many cars enjoyed by other government departments and taxi operators across North America, and in some cases represented some of the last full-size traditional rear-wheel drive sedans in America for some time until the configuration became popular again.
Dodge Diplomat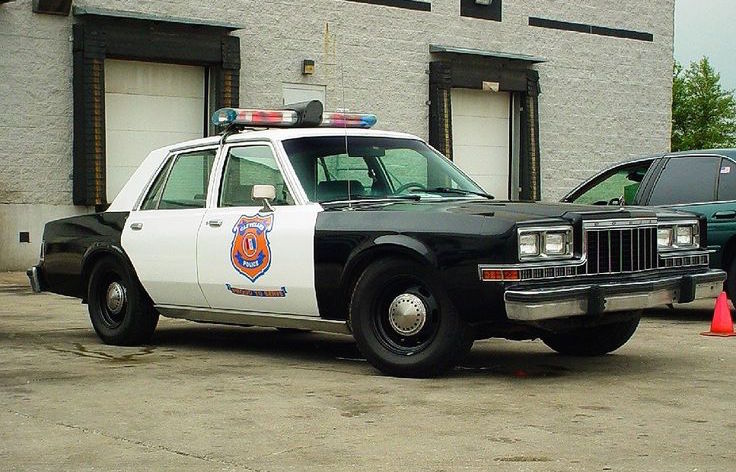 The popular Dodge Diplomat was based on Chrysler's mid-size M-body platform from 1977. It came with a 318ci (5.2 litres) or 360ci V8 (5.9 litres) V8 mated to a three-speed automatic, and its odd, narrow grille was the result of being forced to re-use the bonnet from the Chrysler LeBaron. It would be the last rear-wheel drive model made by Chrysler until the Plymouth Prowler from 1997.
By 1989 it was very outdated with its three-speed auto and carburetted engines but was the first Chrysler model to feature an air bag and tilt-adjust steering wheel. A large number of Diplomats were also built by AMC during 1987 to 1989.
Image courtesy of Pinterest
Plymouth Gran Fury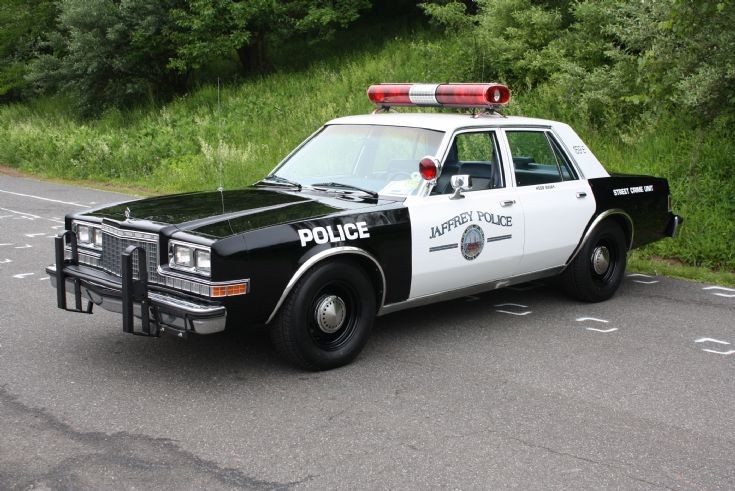 The Plymouth Gran Fury was initially built using Chrysler's larger R-body platform until its switch to the mid-size M-body in 1982, something a lot of ongoing larger Chrysler nameplates did. In this form it was almost identical to the Dodge Diplomat except for badging. The Gran Fury was purpose-designed as a cheaper version of the Chrysler Newport and was aimed at taxi, police and other fleet operators, with police cars utilising the 5.2-litre and 5.9-litre V8s. It would be the last full-size Plymouth model ever built.
Image courtesy of Pinterest
Ford LTD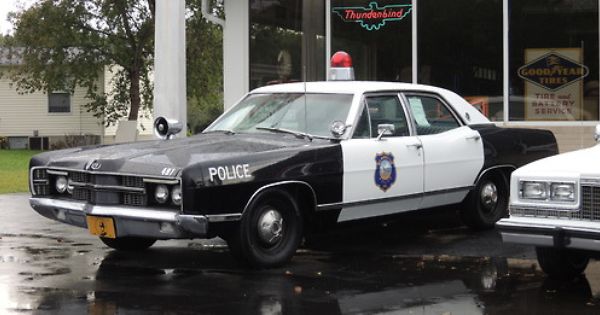 The Ford LTD was built on the company's new downsized but still large Panther platform and featured 4.9-litre and 5.8-litre V8 engines, with the optional 351 being restricted for police operators only from 1981. The LTD switched to the mid-size Fox body platform from 1982 and also gained a fuel-injected 302 V8, then was phased out from 1986 when the new aero-styled front-wheel drive Taurus arrived.
Image courtesy of Pinterest
Ford LTD Crown Victoria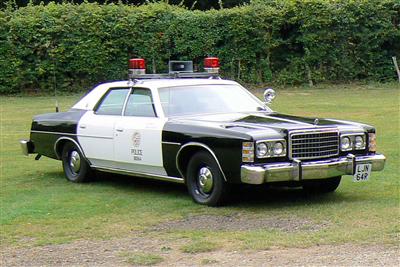 The Ford LTD Crown Victoria was the main entry from the Blue Oval brand during the 1980s. It was a very traditional full-size model based on the Panther platform built until 1991 when it morphed into the iconic aero-styled Crown Victoria. It came with a 4.9-litre V8 and a larger 5.8-litre unit (restricted for police use only), with electronic fuel injection later arriving for the 4.9 while a carburetted 5.8 was still fitted through to 1991. The more basic 'S' model was produced for fleets which had no vinyl roof, no chrome roof band, no hood ornament and bench seats. The second Bluesmobile was an LTD Crown Victoria in the movie Blues Brothers 2000.
Image courtesy of Pinterest
Dodge St. Regis
The Dodge St. Regis introduced in 1979 was a re-skinned dinosaur based on the old large Chrysler B-body platform which underpinned the classic 1960s Dodge Charger muscle car. It featured a unique retractable headlight cover, 5.2-litre and 5.9-litre V8s and a three-speed automatic transmission. By 1980, restrictive anti-emissions regulations meant that it was a dog to drive, with many police officers complaining about its poor performance. A special waiver was acquired to remove the anti-smog equipment to restore some performance, but departments such as the California Highway Patrol dropped it for the Ford Mustang instead. The St. Regis ended production in 1981 but was seen often thanks to TV cops including Sledge Hammer and T.J Hooker, and many were destroyed in such TV shows.
Chevrolet Impala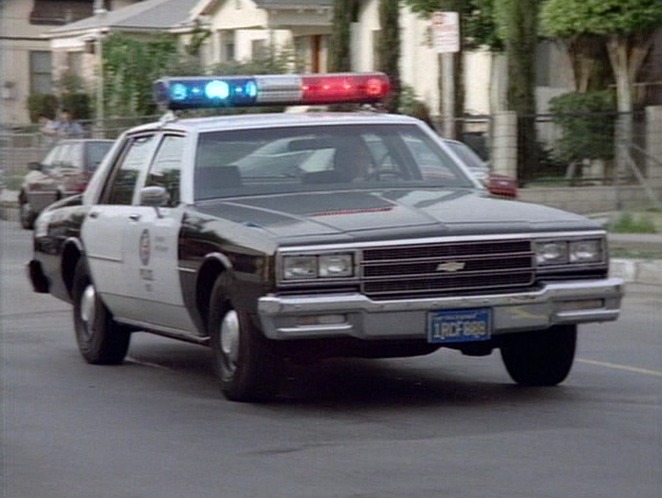 The Chevrolet Impala was a cheaper, trimmed down version of the B-body full-size Caprice and came with V8 engines of 5.0-litre and 5.7-litre capacities. The underlying platform dates all the way back to 1926 and had a number of major revisions over the decades up to 1991. The Impala was found to rival other models well with good performance, decent interior trim and a large boot. The Impala was phased out in 1986 when the Caprice 9C1 police pack replaced it, but would come back in the future.
Chevrolet Caprice
The Caprice was Chevrolet's mainstay for this period and was very popular, staying in production until 1990. It was a strong rival to Chrysler and Ford models thanks to its then-new aerodynamic design, weight efficiency and resulting good fuel economy. It was based on the old trusted B-body platform and was the fastest police sedan in the quarter mile and was fastest through circuit testing when compared to rival models. Police officers also gave it better ergonomic ratings. From 1989 it received throttle body fuel injection and came with a 5.0-litre or 5.7-litre V8.
Chevrolet Malibu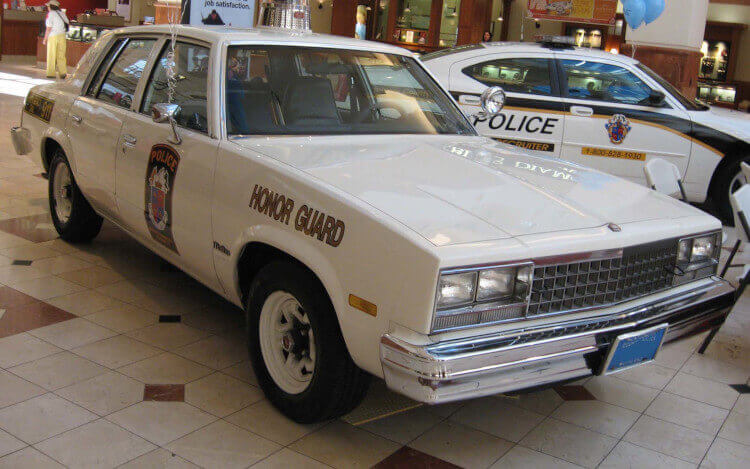 The Chevrolet Malibu was a mid-size model which replaced the ever-popular Nova. It was downsized and shed up to 450 kg in the process, and was styled to look bigger than it was. The biggest engine available was the Chevrolet 5.0-litre V8 and it was produced until 1983. A staggering 25,000 examples were also built by General Motors to meet the requirements of a contract to supply the Iraqi government with a reliable taxicab. Early versions of this generation Malibu had six-window sides and fixed rear door window glass.
Ford Fairmont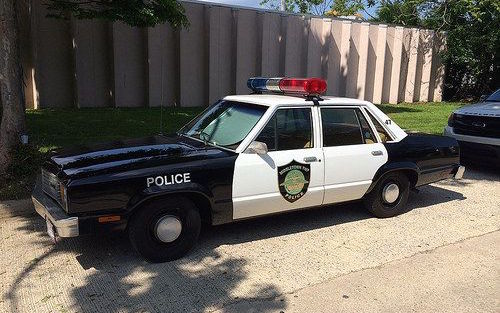 The name Ford Fairmont was a long-running nameplate in Australia, but in North America it was produced only from 1977 to 1983. It was the replacement for the Maverick which in turn was the replacement for the Falcon. It was a compact-class model which was employed by police forces with either six-cylinder or 4.9-litre V8 engines. Sharing its platform with the successful Fox-based Mustang, the Fairmont was the last of the compact rear-wheel drive sedans from Ford during this time.
Image courtesy of Pinterest
Chevrolet Celebrity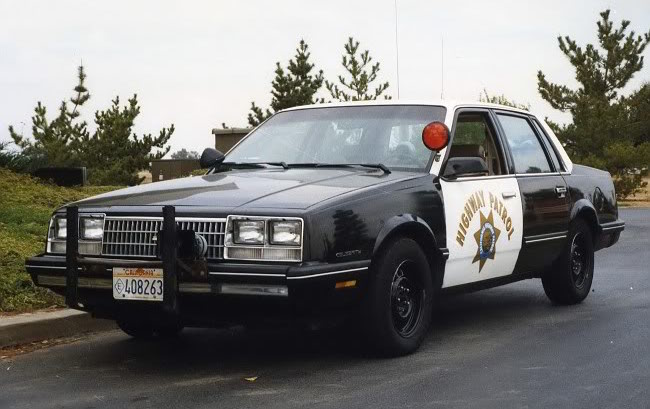 The Chevrolet Celebrity was a mid-sized front-wheel drive sedan employed by police forces from 1982, and the biggest engines had six cylinders. The Celebrity replaced the Malibu mentioned above and presented more efficient packaging with better interior space and fuel economy, a configuration which was becoming more and more popular with private customers rather than traditional large rear-wheel drive models.