Audi has revealed a sporty TT offroad concept car at the Beijing Motor Show, similar to the Allroad Shooting Brake concept from earlier in the year. The offroad TT could give us a preview as to what Audi is planning for the showroom in the future.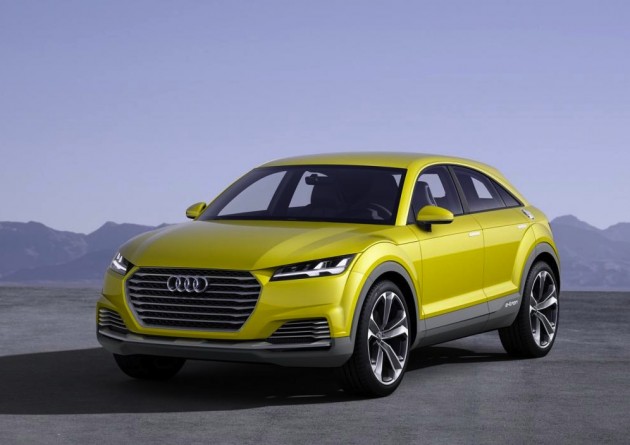 Audi is reportedly looking to expand the TT range, and could soon offer more than just a coupe and convertible. At first a four-door coupe model was believed to be on the cards but now it seems an SUV might also be on the horizon.
The design study, according to Audi, combines the sportiness of a coupe with the versatility of a compact SUV. It also provides an entirely new expression of the company's latest design direction.
Power comes from a high-tech plug-in hybrid system consisting of a 2.0-litre TFSI turbo four-cylinder, with 215kW and 380Nm, as well an electric unit bringing overall output up to 300kW and 650Nm.
In terms of performance, the unique concept is able to cover 0-100km/h in just 5.2 seconds with a top speed limited to 250km/h. It also offers a fuel economy average of just 1.9L/100km and an electric-only range of 50km. The overall range potential is 880km.
The concept is based on the Volkswagen Group MQB platform, also shared with vehicles such as the Golf and Audi A3, while the body incorporates the Audi Space Frame principle, with lots of aluminium components for optimum lightness.
Like the regular TT sports coupe, the offroad concept uses short front and rear overhangs with a low cabin glasshouse structure. It has a height ratio of 30:70. At the back it looks wide and planted, with twin exhaust outlets encompassed by an offset rear bumper bar and diffuser section.
Inside, the relationship with the TT is a lot closer, with a four-seat layout, a clean and fuss-free dash with circular aviation-style air vents, and a large flat boot area. There's also a 1:8 scale remote control car in the boot just for fun.
Prof. Dr. Ulrich Hackenberg, member of the board of management for Audi Technical Development, spoke about the car in a statement, saying,
"The Audi TT offroad concept provides a glimpse of how we might imagine a new model in the future TT family.

"We chose to present the Audi TT offroad concept in China, our second domestic market, because it represents the urban mobility of tomorrow: It is sustainable, dynamic, intelligent and connected."