The BMW M3 is regarded as one of the very best performance cars currently on the market, and certainly one of the greatest driver's cars. What RamSpeed has done here is take the already superb foundations, and amplify them to the utmost extremity.
The project car is, according to RamSpeed, the first Vorsteiner GTRS widebody M3 in Australia with a VF Engineering supercharger kit. According to us, it's certainly the meanest road legal V8 M3 we've ever seen in this country.
Starting out life as a modest yet tastefully modified M3 Coupe (an image is in the gallery below), it featured a sports exhaust system, a neat carbon fibre bodykit, some minor interior changes here and there, and some aftermarket alloy wheels. The project has now completely transformed the car into an absolute animal.
Looking a little like it has taken a big dose of steroids, the GTRS kit first involves removing and replacing the front and rear guards. As you can imagine, this is a fairly big job. The rear guards in particular are significantly fattened, giving it that wholesomely planted stance.
Once these are changed, some new front and rear bumper bars go on, matching up to the extra width. At the front is a low spoiler system integrated into the bar, which has also been painted black for that stealth look.
Around at the back is probably the best angle. It's super-aggressive, and looks like it wants to take off. The new rear bumper bar uses a chunky diffuser with fins, as well as some side vents like what is seen on the 1 Series M Coupe.
To complete the body transformation, there's a new boot lid which incorporates a larger lip spoiler. RamSpeed has also given the car some custom graphics in the form of various blackened highlights, a RamSpeed logo on the bonnet, and some RamSpeed decals down the sides.
With wider wheel arches there's obviously more space for the wheels. So to make sure these cavities are filled nicely, the car receives a set of 20-inch forged alloy wheels. At the front, they measure a huge 10.5 inches in width, wrapped in 285/25 Michelin tyres. At the rear, they are an eye-popping 12.5 inches wide, wearing 325/25 tyres.
You can't have a car looking tough without the under-bonnet tackle to match, right? That's exactly the reason a VF Engineering centrifugal supercharger was fitted. It comes with a V3-SQ blower unit, a bespoke cast intake manifold, an air-to-water intercooler, and an ECU retune.
With the standard naturally aspirated 4.0-litre V8, the M3 offers an impressive 309kW. It's enough oomph to propel the coupe from 0-100km/h in under 5.0 seconds. With the charger on board, running a modest 4-4.5psi, the engine now develops 400kW and 500Nm (up from 400Nm).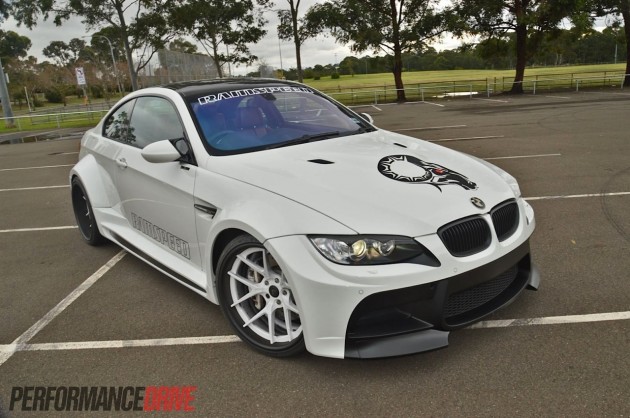 Fortunately, we were lucky enough to take the M3 for a test drive and feel its madness. While we didn't time it, 0-100km/h comes up very quickly indeed. In some ways, it reminds us of our old friend, the 412kW BMW M5, only the M3 feels more planted on the road. The amount of traction that's on offer is immense.
It's an insane machine, both visually and mechanically. And the sound? It's like a growling tiger undergoing a rectal exam. Like the factory M3 it hammers through the gears, and before you know it, the speedo needle is swinging into the nether regions. It's savage.
RamSpeed tells us this is actually the Stage 1 kit. The company also offers Stage 2 and 3. Stage 2 sees power boosted to 460kW with a 6-6.5psi setting and some other tweaks, while the Stage 3 takes power out to 480kW using 7.5-8psi and a full exhaust system.
We've put together a brief video for you to give you an idea of its awesomeness. As mentioned, we couldn't perform a proper 0-100km/h test, but we did record the speedo during some hard acceleration to give you an idea.
For more info and prices, contact RamSpeed.