Breathe a collective sigh of relief, Australia, the new Honda NSX has officially landed. Well, kind of…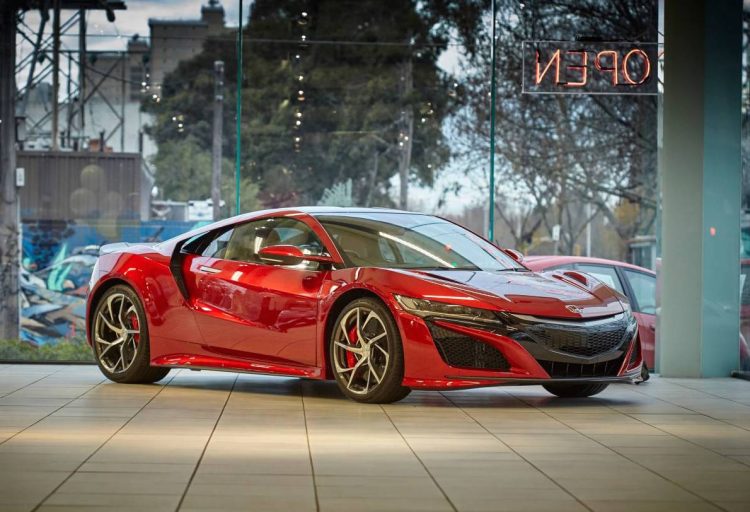 A special pre-production Honda NSX is currently on show at Yarra Honda in Melbourne, where it will make its way around Australia on a promotional tour aimed at hyping interest in the hybrid supercar ahead of deliveries commencing later this year.
Honda's Australian director Stephen Collins said the NSX represents Honda's return to performance glory,
"We expect the NSX to be a very exclusive car and as a technology and design statement, it represents the pinnacle of Honda automotive expertise."
He continued to explain that "it's already gained rave reviews in other markets, providing exhilarating performance, handling and luxury in a supercar," referring to the collective automotive praise the NSX has received from overseas journalists.
The local delay is partially due to the fact that despite Honda being a Japanese manufacturer, the NSX is actually constructed in Marysville, Ohio, USA. Around 100 workers produce between six to eight vehicles weekly, and the NSX is a vehicle in high demand.
Powered by a 373kW/550Nm dry-sump mid-mounted 3.5-litre twin-turbocharged V6 mated to a direct drive motor located between the transmission and engine, working with the added bonus of two electric motors at the front, it offers a combined output of 425kW/646Nm.
While the 3.5-litre V6 powers the rear wheels, the two electric motors provide drive to the front wheels, for added traction. The NSX's high-tech space frame chassis is constructed largely from aluminium to keep weight down.
Honda's space frame construction allowed designers to come up with an interior design that wraps around the driver and passenger, with added sport seats and Alcantara for that boy-racer feel.
Australian specs and pricing will be released closer to the local release later this year, but we can probably expect a price tag above $400,000.
If you're interested, there's only a handful of places you'll be able check out the NSX for the moment, while it's here in Australia. The five dealerships are Scotts Honda (NSW), Yarra Honda (VIC), Austral Honda (QLD), Nordic Honda (SA) and Burswood Honda (WA).