We bet you didn't think it was possible but McLaren is planning to introduce an even more track-ready version of the Senna, called the Senna GTR. A teaser image has been handed out to give us all a taste of what to expect.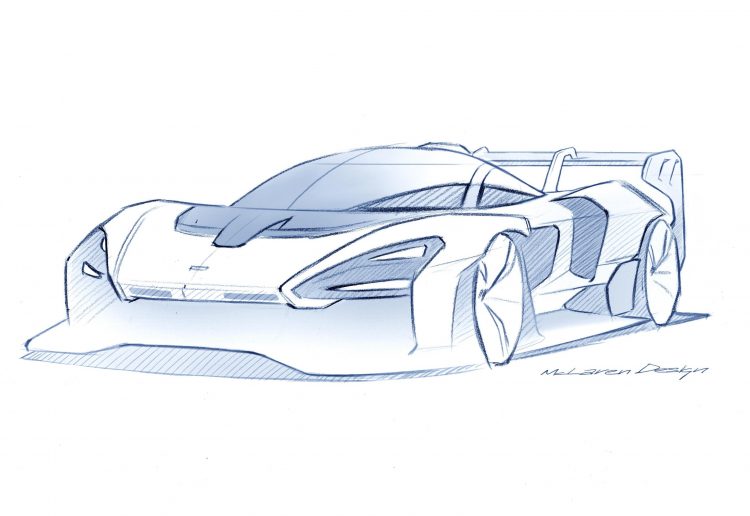 Unlike the regular Senna which is road-legal (although probably not in some countries), the McLaren Senna GTR will be a track-only model. It'll come with a range of hardcore components and technologies, including plenty that have been directly derived from motorsport.
An insane aero kit promises to help the Senna generate up to 1000kg of downforce at speed. That'll be like having a small car sitting on the roof, squashing the car down onto the road. As you can see in the preview image, the GTR uses wider wheel arches, a larger front splitter, and at the back there's a repositioned active wing and chunky diffuser.
To help cope with such punishment the Senna GTR will use race-bred suspension derived from the setup used in McLaren GT3 racing cars. The GTR will also feature a wider track to help with cornering, with race-like centre-lock wheels wearing Pirelli slick tyres. All of this is projected to provide 20 per cent greater deceleration, capable of hitting over 3g.
A certain degree of weight reduction is being applied to help with track performance as well. McLaren says the final weight figure is yet to be declared, but says it will weigh less than the regular Senna (1198kg). Some of the interior is stripped away, with no airbags and no infotainment system to be seen, while the steering wheel is replaced with a race-style unit with integrated shift paddles. Air-conditioning remains, as well as rear collision avoidance.
As for the engine compartment. It houses a 4.0-litre twin-turbo V8 that produces an immense 607kW, which is up from 589kW in the regular Senna (825PS/800PS). Torque remains unchanged at 800Nm. With the McLaren Senna GTR being lighter than the regular model, and using a racing-ready chassis and aero setup, the extra power should make it a truly mind-blowing driving experience.
Just 75 example of the GTR will go into production. Prices start at £1.1 million, but it doesn't matter because all have already been sold.