Just as summer rolls in for Australia, McLaren has unveiled its all-new flagship open-top hypercar, called the McLaren Elva. It comes in as the newest member of the Ultimate Series range.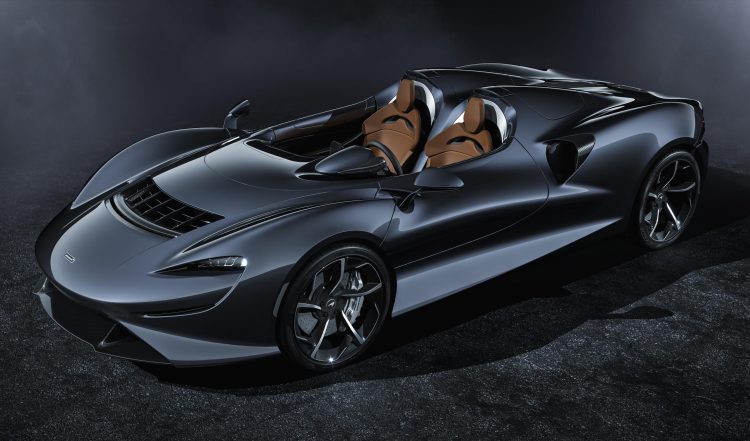 It's described as McLaren's first open-cockpit road car, with no roof, no windscreen, and no side windows. This creates a sensory overload for the passengers, whether driving on the track or road. McLaren says helmets can be worn, but the design has been created to wrap the passengers securely. There's also an optional windscreen for those that don't like the taste of bugs.
Power comes from an immense 4.0-litre twin-turbo V8, similar to the unit that powers the McLaren Senna. In the Elva it produces a colossal 600kW and 800Nm, all of which is sent through a seven-speed dual-clutch transmission with rear-wheel drive. The engine incorporates some exotic stuff, including a flat-plane crank, dry-sump lubrication, and special lightweight components.
What's it go like? How does 0-100km/h in less than 3.0 seconds sound? What about 0-200km/h in just 6.7 seconds. This latter sprint in particular is just incredible. Some sports cars can't even manage 0-100km/h in that time. A top speed figure hasn't been mentioned, but we're sure it'd be some mind-blowing velocity.
In terms of the design, the front end incorporates a typically low nose while the front wheel arches peak to provide big, pouncing humps and increased visual drama. From the side profile you can see just how low the car is, and designers have applied considerable attention to keeping even the rear buttresses low. In their place is a deployable roll-over production system. Rob Melville, design director at McLaren, said:
"Our mission with the McLaren Elva was to create an open-cockpit, two-seat roadster that delivers the most elemental of driving experiences. Formula 1-inspired shrink-wrapped volumes create a technical sculpture that is as striking as it is remarkable."
So, what's the story with the name? It comes from company founder, Bruce McLaren, and the sports cars he designed. Primarily, the McLaren-Elva M1A, M1B, and M1C sports cars of the 1960s. These were customer versions of the Group 7 race cars of the day. Mike Flewitt, McLaren Automotive CEO, said:
"The McLaren-Elva M1A [Mk1] and its successors are in many ways the true spiritual forerunners of today's McLarens – superlight, mid-engined cars with the highest levels of performance and dynamic excellence. It's fitting that the new McLaren Ultimate Series roadster – a uniquely modern car that delivers the ultimate connection between driver, car and the elements and with that new heights of driving pleasure on road or track – acknowledges our rich heritage with the Elva name."
McLaren is planning to produce just 399 examples of the Elva, and all orders go through the McLaren Special Operations division as custom orders. This ensures every model remains as exclusive as possible. Prices in the UK start from £1,425,000.