The Holden Astra nameplate is well-established in Australia. But over the last few generations muddled sourcing from head company, General Motors, has made the lineup confusing. There have been periods where we had an over-priced Astra sourced from Opal in Germany, an inferior Astra replacement called the 'Viva' from Daewoo's old factories in South Korea, and at some points, no Astra at all.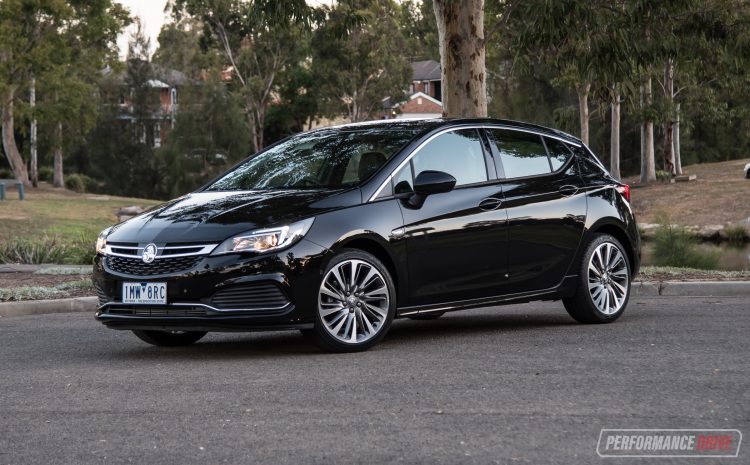 The latest generation is now well-priced, with attractive European styling, and the lineup should keep most prospective buyers in this segment satisfied. Local consumers are offered the R, R+, RS, and the top RS-V.
All R and R+ variants come with a 110kW/240Nm 1.4-litre four-cylinder turbo, and the RS and RS-V come with a sportier 147kW/280Nm 1.6-litre turbo. A six-speed manual is offered in the base R and top spec RS-V. Or you get a six-speed auto transmission for an extra $1000 on these. The R+ and RS come in auto form only.
Prices begin at $21,490, and rise to $31,740 for this tested RS-V matched to the six-speed auto (plus on-road costs).
2019 Holden Astra RS-V – THE SPECS
Engine: 1.6-litre turbo four-cylinder
Output: 147kW@5500rpm / 280Nm@1650-3500rpm
Transmission: Six-speed automatic
Drive type: Front-wheel drive
Wheels: F & R: 18×7.5, 225/40
ANCAP: Five stars
Tare weight: 1325kg
Power-to-weight: 9.01:1 (kg:kW)
Official fuel economy: 6.3L/100km
Economy during test: 7.0L/100km
Fuel capacity/Type: 48L/95 RON
Power efficiency: 23.3kW:L/100km
0-60km/h: 3.13 seconds*
0-100km/h: 6.42 seconds*
60-110km/h: 4.34 seconds*
1/8 mile: 9.76 seconds at 125.3km/h*
1/4 mile: 14.90 seconds at 155.9km/h*
Max acceleration: 0.680g
100-0km/h braking: 2.97 seconds at 39.19 metres*
Max deceleration: -1.149g
Decibel at idle: 47*
Peak decibel at 60-100km/h: 78*
Priced from: $31,740
* Figures as tested by PerformanceDrive on the day. Factory claims may be different

2019 Holden Astra RS-V – THE PACKAGE
To start with, we'll get the features list out of the way, just so you know where the Astra sits within the market. A lot of new models in this space are being filled the brim with not just creature comforts, but some pretty advanced safety tech as well. And all as standard even on base models.
If you're on a tight budget the base Astra R does miss out on some of the important safety tech that is standard in some of the rivals, such as autonomous emergency braking. In other areas though you do get some decent stuff, like a six-speaker sound system with Android Auto, Apple CarPlay and digital DAB+ radio, a rear-view camera, daytime running LED lights, auto headlights, 17-inch alloy wheels, and an adjustable tilt and reach steering column, along with a height-adjustable driver's seat.
If you opt for the top RS-V you score autonomous emergency braking, as well as lane departure alert with steering assist, pedestrian detection, 18-inch alloy wheels, dual-zone climate control, blind-spot sensors, partially leather seats, parking assistance with automated steering, rain-sensing wipers, keyless push-button start, and a heated steering wheel.
But for a top spec model, the RS-V does miss the mark in some areas. For example, adaptive cruise control, road sign recognition, auto high-beam, electrically adjustable front seats, and wireless phone charging are not available. These features come as standard on many of the latest contenders in this space.
Many buyers might look past equipment levels and be caught by its attractive exterior styling. From front to rear, it poses as slick and athletic, without being too bold or futuristic. The front end conveys a smooth, conservative and slim look with bulging headlights, and aerodynamic contours that look like they'd cut through the air. Flowing towards the back is a sharp and prominent crease line that flows along the doors and to the taillights. At the rear, the windows are kept small with a high-waisted stance. The LED taillights, similarly shaped to those on the Toyota Corolla (although, not as protruding from the body), look brilliant at night.
Inside, nothing is symmetrical or square. In that sense, we can see a bit of GM in the genes. The button layout is busy at first, and the menus are on the messy side compared to the competition. Materials generally feel a little lower in quality as well. For example, there are lots of hard and glossy plastics, and chrome highlights – far from the sophisticated feel of the new Mazda3, for example.
The RS-V comes with sportier and, we think, more comfortable front seats than those in the R, with electric lumbar adjustment for both chairs. The seats effectively hold you in place when cornering gets lively. In the rear, room is on par with the hatch market, but smallish rear windows can make it feel a little less airy back here. There's an adequate amount of room to accommodate four adults comfortably though.
In the boot, the Astra has one of the bigger boot sizes on the market. It measures in at 360 litres. To compare, the Toyota Corolla hatch offers 333L and the new Mazda3 hatch presents 295L. However, it's not quite as large as the Hyundai i30's 395L. You can increase the space to 1210L if you fold the back seats down. And they fold down flat for maximum use of the area too.
Holden now offers a five-year/unlimited kilometre warranty for all of its vehicles, which is pretty much the new standard for the mainstream market. Servicing intervals are every 12,000km or 12 months.

2019 Holden Astra RS-V – THE DRIVE
We love that there is a sportier engine offered in the higher-spec model. Some manufacturers have become lazy, and provide less incentive to spend your hard-earned money on the higher grades – the new Toyota Corolla springs to mind. And the higher performing 1.6-litre four-pot turbo offered here is a sporty little number that definitely makes the extra spend worthwhile.
It produces a nifty 147kW at 5500rpm, and a decent 280Nm from a nice and low 1650rpm to 3500rpm. It's a lively little engine that is brilliant for zipping around town, and makes little work of tackling steep hills thanks to the turbo. In practise, we found that it easily keeps up with traffic flow, and even stays ahead with ease if you want it to.
We love the cute hum it produces at low revs on take-off; it shouts zip and sportiness. Our acceleration testing revealed a very impressive 0-100km/h time of just 6.42 seconds. This makes it one of the quickest 'warm hatches' we ever tested. Especially one that comes with a regular automatic transmission and not a dual-clutch type.
Being a higher performing engine means it does require a minimum of 95 RON fuel. Though, there are lots of sporty hatches requiring this as well. Official tests claim the Astra RS-V burns a healthy average of 6.3L/100km. During our harsher real-world testing, we averaged 7.0L/100km over week of driving. There could be a little improvement here for longer-term use as our testing is usually heavy-footed. The fuel tank is fairly small, at 48 litres, so you'll find yourself at the petrol station about every 550km.
Ride and handling in the Astra RS-V matches well with the zippy engine. Bumps are absorbed confidently and without disruption to the car's balance, and the car feels very sturdy at high speeds. This is perhaps thanks to the German engineering, and the fact that some components are in fact made in Germany such as the dampers.
You can also take on corners with a keen spirit as the suspension is taut and the body control is very well managed. It's not until you really push it that some understeer and return-to-centre lateral wobble is noticed. The steering also reacts with a zippy nature, with what feels like relatively quick ratio gearing.
Road noise is quite audible. More so than other hatches in the segment. This is surprisingly to use considering the European roots. It is especially prominent on surfaces with a chunkier asphalt surface. In other words, maybe our poorer quality roads aren't really suited to the underlying engineering of the car.
Another area that seems a bit off-balance to us is the auto transmission. During times of normal take-off, acceleration is slightly delayed and it can seem a bit clunky. It almost behaves like a dual-clutch auto in that regard. But, under heavy acceleration and up through the gears above 40km/h, it is super quick and smooth. Sprinting up from first into second, it can actually chirp the tyres in some instances. If this doesn't sound appealing enough, at least the old faithful manual is offered, which is very rare for a top-spec model.
2019 Holden Astra RS-V – THE VIDEO
2019 Holden Astra RS-V – THE VERDICT
Although Holden hasn't done many favours for the muddled Astra model over the last decade, the latest-gen is one that should be back on your list for consideration. We love the neat European styling, which isn't stupidly over the top like some new models, and we really enjoy that 1.6-litre turbo engine – it's surprisingly potent.
The only shortcomings it faces in our view is the lack of advanced technology, the road noise, and the ageing interior design. As a top-spec model the RS-V should come standard with adaptive cruise control, an electrically adjustable driver's seat, and road sign recognition, to name a few.
PROS:
– Attractive European exterior design; well proportioned
– Very comfortable seats
– 1.6T much quicker than expected
– Solid handling
– Manual transmission available
– Respectable starting prices

CONS:
– Coarse road noise
– Messy dash buttons and media system
– Plasticky and ageing interior
– Some initial hesitation from auto transmission
As always, if you're thinking about buying a new car don't forget to click here to speak with our car buying specialists.