McLaren has released a new "Track Pack" for its 570S that adds even more carbon fibre and includes upgrades exterior and interior.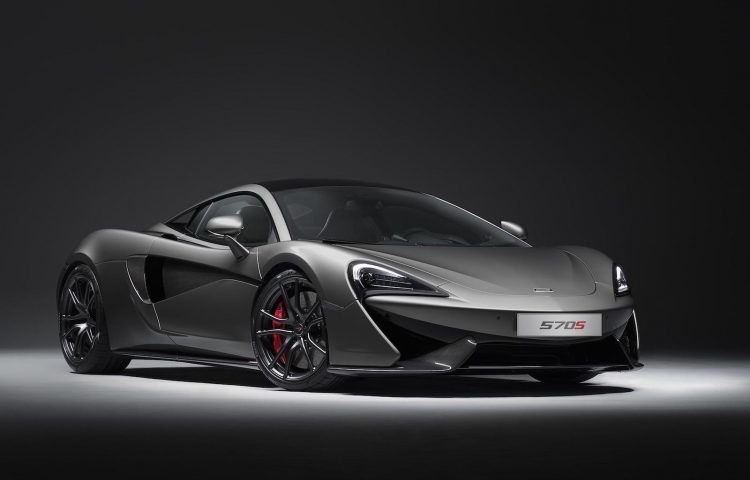 McLaren says the new track package is inspired by the brand's recent GT3 and GT4 victories, and says it "exploits all the benefits of light weight and aerodynamic downforce to deliver the most gifted on-track ability of any member of the Sport Series family".
The pack includes 25kg of weight-shedding measures, largely down to a new interior package that employs Alcantara rather than leather across seats, dashboard and steering wheel, throwing out the old seats in favour of new carbon fibre items.
Extra weight saving measures are made up by the new super-lightweight alloy wheels, with a 'stealth' finish, which retain their carbon-ceramic brake discs. Dry weight of the 570S with optional pack installed stands at 1319kg.
The powertrain remains unchanged, meaning the 419kW/600Nm 3.8-litre twin-turbocharged V8 unit will propel the 570S from 0-100km/h in just 3.2 seconds, 0-200km/h in 9.4 seconds, on to a top speed of 328km/h. The main difference is that the 570S with the track pack offers more downforce when you get moving; 29kg at 240km/h to be exact.
McLaren includes a rear wing that is 12mm higher than the standard wing in the 570S, the only Sport Series model to receive the tailor-made spoiler. Other special touches include a McLaren Special Operations dark palladium roof finish, and stealth-finish for the sports exhaust tips.
Also included in the track pack is the addition of McLaren's track telemetry system. It's the same system used in the track-focussed 675LT and P1 models. The telemetry pack allows owners to log lap times, sector splits, as well as analyse what must be tens of thousands of different sets of data.
The track pack is now available as an optional extra for the 570S, with deliveries beginning in early 2017. According to McLaren it is priced from about AU$27,000 (after Euro conversion).