An employee at a Maserati dealership has been tragically killed in a car crash, shortly after posting a video of himself accelerating in a 2017 Ghibli.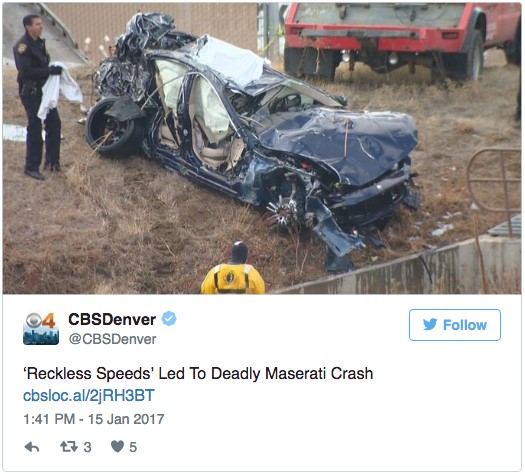 Brandon Gianopoulos, a 24-year-old salesmen at Mike Ward Maserati, just outside Denver, Colorado, lost his life in a wreck involving a Maserati that was found in a pond, in Highland Ranch. The vehicle and Gianopoulos were not discovered until the following morning when a passerby alerted the police.
The wreckage can be seen above in a tweet from local news station, CBS Denver.
What makes this tragedy that little bit more poignant is that Gianopoulos posted a video of himself on Faceboook (also posted on YouTube, below), accelerating up to 110mph (177km/h) on the evening of the accident.
The investigating Douglas Sheriff's Office is still working to determine the cause of the fatal incident, but said that "reckless speeds" contributed to the crash.
"The cause of the crash is still under investigation, but excessive speed is suspected as a contributing factor," the sheriff's office said in a press release. "This case is still an open investigation and no further information will be released at this time."
The office also mentioned that due to Gianopoulos's line of work, he had "access" to the car "as part of his duties", alluding to the fact the vehicle was not stolen.
https://youtu.be/td47jVdOS_o