Lynk & Co, owned by Geely Holding Group (owners of Volvo), has revealed a road-going version of the 03 Cyan Racing Concept of last year. The road-going version could preview an eventual production model of the future.
Built by Cyan Racing, formerly known as Polestar Racing, the concept is converted from its original track-only theme to be suitable for road use. It follows on from similar concepts that Cyan Racing has built, including the Volvo C30 concept and the 508hp Volvo S60 concept.
For the Lynk & Co 03 Cyan Racing road concept, power comes from a 2.0-litre turbo four-cylinder engine that has been tuned to produce an impressive (for a 2L) 394kW and 504Nm (more power than the original 373kW racing concept, below). It's able to rev to an ear-smashing 8000rpm, and distributes force through a six-speed sequential gearbox with front-wheel drive.
How's the performance? Well, 0-100km/h comes up in just 4.4 seconds, which is amazing for a front-wheel drive, with 0-200km/h coming up in 10.0 seconds. Keep it flat and it'll soar to 310km/h.
It's not all about straight-line speed, though. The concept features Ohlins adjustable suspension, supporting 20-inch wheels by Cyan. These wear 285/30 tyres front and rear. Around corners the road-going concept is able to pull up to 1.5G.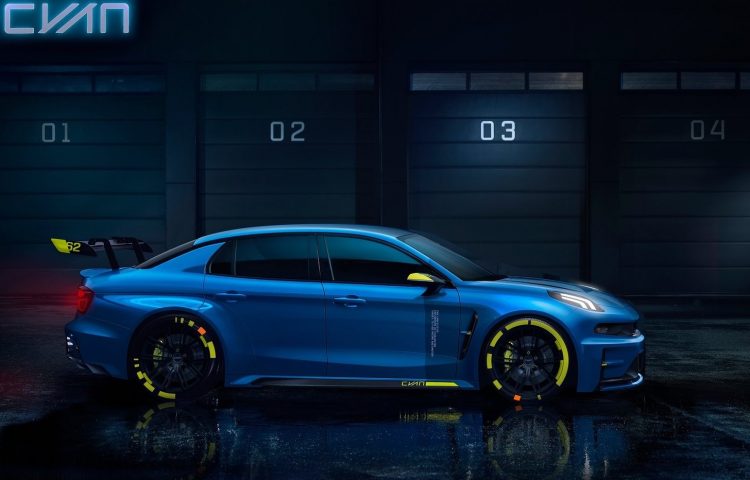 Stopping power comes courtesy of 380mm front discs clamped by six-piston calipers, and 278mm rear discs clamped by twin-piston calipers. Pulling up from 100km/h to a dead stop requires just 30 metres.
So, what are the chances of a production version coming along in the future? Development of the road-going concept is currently underway on the roads in Spain. Cyan says the car will give the company an opportunity to lean more about the 03 and its characteristics. Cyan Racing founder and owner Christian Dahl said:
"This is a natural step for us together with Lynk & Co. To build a road version of a race car is a great way to learn more about a car and its characteristics. This is a performance concept but it might also be a first step towards a performance offer for Lynk & Co customers where we bring what we learn on the track to the road."