To keep the anticipation going, Audi has revealed just the interior of the next-gen2015 Audi TT at the Consumer Electronics Show in Las Vegas, giving us all a preview of some of the technologies that will become available on the sports car.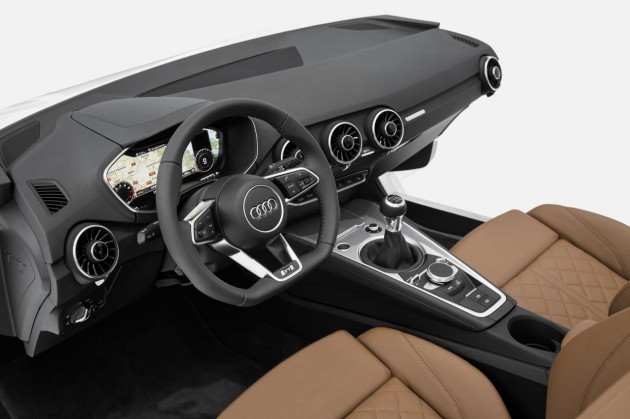 Audi only confirmed a couple of weeks ago that the new TT was coming this year. It seems development on the car is quite far along, with details such as the dash design, steering wheel, and the epic new instrument cluster already finalised.
As you can see, the new model will adopt round aviation-style air vents which feature their own digital readouts, lots of aluminium for trimming, a Lamborghini-like flat-bottomed steering wheel, a dash layout skewed toward the driver, and a centre console-mounted infotainment control.
Speaking of the infotainment, the unit is not on the dash fascia where you usually find it. Instead, Audi has moved everything up into a huge 12.3-inch TFT liquid-crystal display, which offers 3D graphics. The unit is able to provide two completely different display modes; classic and infotainment view.
Other highlights include big sports leather seats with adjustable side bolsters that can be pumped out via an in-built air system, a unique integrated set of head rests that have an adjustable 'loop', and a slimline centre console. Prof. Dr. Ulrich Hackenberg, member of the board of management of Audi for technical development, spoke about the new cabin, saying,
"The first Audi TT was the design icon per se, the second generation was even sportier, right through to the TT RS plus with its five-cylinder TFSI and 360 hp.

"And with the new Audi TT, the driver will be able to experience the technology to an even greater extent – just as would be expected from a genuine sports car. And it comes with a new generation of electronics and connectivity features."
The new TT will arrive on the scene later this year, with Australian market entry likely taking place early in 2015. It's expected to come with a range of revised engines, offering more power and more efficiency.