Yet another Lamborghini Gallardo has spontaneously caught fire. This time, it was a stunning green Lamborghini Gallardo Spyder in Malaysia. This is one of many Gallardo fire incidents that have broken out in the past year or two, with the last reported Gallardo fire in Scotland just a couple of months ago.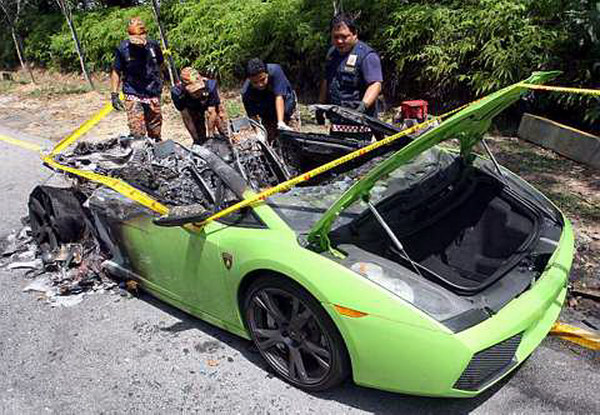 According to reports, this Lamborghini Gallardo fire in Malaysia started when the owner was taking it for an uphill mountain drive in Jalan Beringin in Bukit Damansara on Friday. The 30-year-old owner said in reports that he suspects a fuel leak caused a fire to ignite. He said,
"I was driving up a slope when I noticed smoke coming out of the engine. I had the car for three years and it was heartbreaking to see it go up in flames."
By the time firefighters reached the scene, most of the entire rear section of the Lamborghini Gallardo had been engulfed in flames. They did manage to extinguish the fire, only leaving a burnt out wreck. The front, however, was saved, with the front wheels and nose in normal condition.
Unlike Ferrari, which issued an official recall for the Ferrari 458 over a potential fire hazard relating to a glue that was used in the engine compartment, Lamborghini has not found an issue with the Gallardo, despite a number of fires. The Italian company did recall 428 of the bigger Murcielago models over a potential fuel/fire problem in 2010.
It's such a shame to see Italian exotics like this go up in flames. We can't help but feel sorry for the owners – imagine one minute you're enjoying such a beautiful car, the next you're watching it burn down to a crisp.