The Audi TT RS Limited Edition S tronic dual-clutch DSG seven-speed automaic has just been announced for the Australian market. Normally only available in full manual form, the TT RS Limited Edition will only be available to 45 lucky buyers.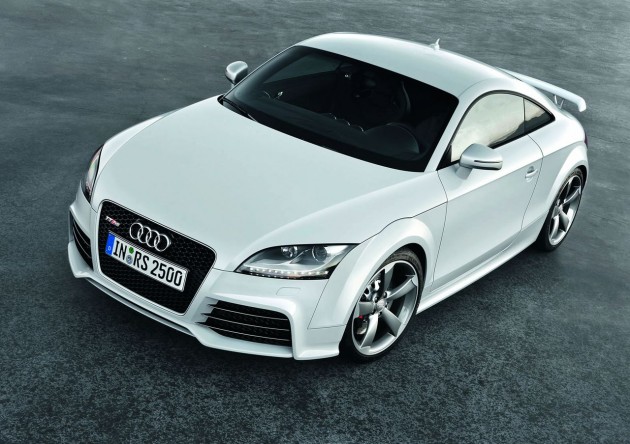 Audi has announced the car will be unveiled at the 2011 Australian International Motor Show in Melbourne this weekend. Although much of the car's details are the same as the current Audi TT RS on sale, the DSG-equipped version promises to be even quicker.
It's a very potent little package the TT RS. It features the awesome 2.5-litre FSI turbocharged five-cylinder engine outputting 250kW and 450Nm of torque, and a belching, howling five-cylinder soundtrack reminiscent of the Audi Quattro S1 rally car.
Audi says the Limited Edition TT RS comes with $8460 worth of extras included in the original retail price of $139,900. It gets a special black interior package, sports exhaust system, metallic paint, 19-inch 5-arm Rotor design wheels in titanium finish, BOSE sound system and an LED interior light package.
The most important thing it 'gets' though, in our opinion, is improved acceleration. How does 0-100km/h in just 4.3 seconds sound? That's a very fast time for this type of vehicle, it's nudging on rear bumpers of half-a-million-dollar supercars. It's also 0.3 seconds faster than the normal six-speed manual variant.
Even though we always prefer a proper manual gearbox in almost every circumstance, there's no denying this TT RS Limited Edition is one quick bit of kit. Top speed is limited to 250km/h. Without the limiter though, we don't see why the car couldn't push on to 270km/h-plus.
The TT RS equipped with a DSG gearbox has been on sale in Europe for a while now, but this is the first chance Aussies have had to example the automatic version. The question is, why wasn't the DSG always available? The DSG gearbox is one of Volkswagen/Audi's most popular marketing tools.
What would you prefer though, manaul or auto?