Lamborghini has officially confirmed it will be unveiling the new Centenario special edition supercar at the Geneva Motor Show next week, also confirming the name of the highly anticipated model.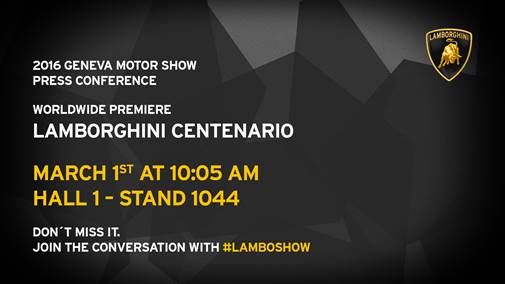 No official specifications or details have been revealed, but an invitation sent to us does confirm the model is near and confirms the new name. It will be a completely unique supercar, created to help celebrate the 100th birthday of company founder Ferruccio Lamborghini.
Earlier this week some interesting patent images surfaced online, showing what is believed to be the Centenario's basic profile and design. Outgoing CEO Stephan Winkelmann previously confirmed the new model will be completely different to any existing model, showcasing the "best balance between tradition and innovation".
As far as we know the car will feature an iteration of the Aventador's 6.5-litre naturally aspirated V12 engine. Power output is said to be around the 567kW mark, making it a lot more powerful than the regular Aventador's 515kW tune.
As such, it is expected to be the quickest and fastest road-going Lamborghini ever made, with 0-100km/h potentially coming up in as little as 2.5 seconds. The top speed is likely to be beyond 350km/h.
It's understood Lambo is planning to produce just 40 examples of the new beast, with 20 in coupe and 20 in open-top roadster form. All of them have apparently been spoken for, although Lamborghini hasn't officially confirmed this.
Stay tuned for the unveiling, scheduled for 8:05pm on Tuesday night (Australian Eastern Daylight Time).