The four-generation 2016 Toyota Prius has been revealed, featuring an all-new platform that promises a more responsive driving experience.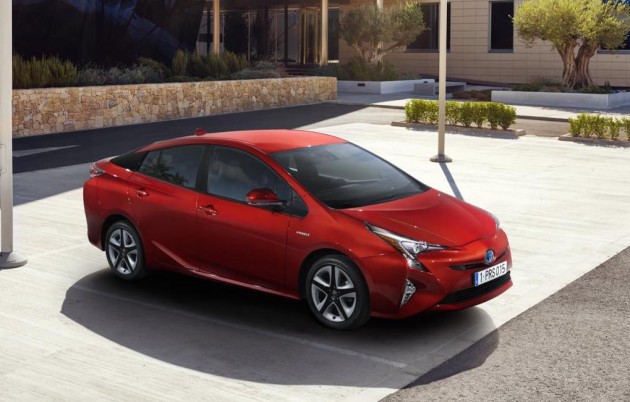 Toyota's next-gen Prius comes with a platform called Toyota New Generation Architecture. The TNGA layout will eventually be used on many other future Toyota showroom models.
Using the new platform, Toyota says the car is stiffer and offers a lower centre of gravity, aiding handling and agility. It also comes with an all-new double wishbone rear suspension setup, and increased body stiffness for bettering cornering without sacrificing ride quality.
The car itself is 60mm longer, 15mm wider, and 20mm lower than the outgoing model. This provides a lower and sleeker external design, and more carbon space including in the cargo area.
As for the design, well, as seen in spy shots, the Prius is more futuristic and sportier-looking than ever before. Toyota says the pointed nose at the front is actually the same height as the Toyota 86. It gets new headlights that minimise the front area while lighting up a distinctive pattern for the Prius. There's also black C-pillars, and swooping roofline, and defined contours.
Inside, the dash has been given a modern makeover and comes with various LCD screens to display live driving data. The whole layout embraces Toyota's 'Iconic Human-tech' theme, with features that are "functional, fun, and have a high visual impact".
The dash has been designed to accentuate a sense of space and width, with layered sections for the 'display zone' and 'control zone'. Toyota will be filling the new model with more advanced tech as well, including a pre-collision avoidance system, lane departure alert, and active cruise control.
Toyota has so far managed to sell over 3.5 million Prius vehicles around the world. It is easily the most popular hybrid ever and perhaps the pioneer of automotive hybrid technology. Prius global chief engineer Kouji Toyoshima said,
"We have developed an even-better Prius by expanding its environmentally sensitive DNA while ramping up its desirability with an emotional design and an engaging drive. It offers a new perspective of what a hybrid can be."
The car will be on display at the 2015 Frankfurt Motor Show next week. It will then go on sale in Australia early in 2016.