Kia has unveiled its racy little Kia Track'ster concept car at the 2012 Chicago Auto Show. The angry-looking two-door is based on the Kia Soul, presenting a more serious high performance potential.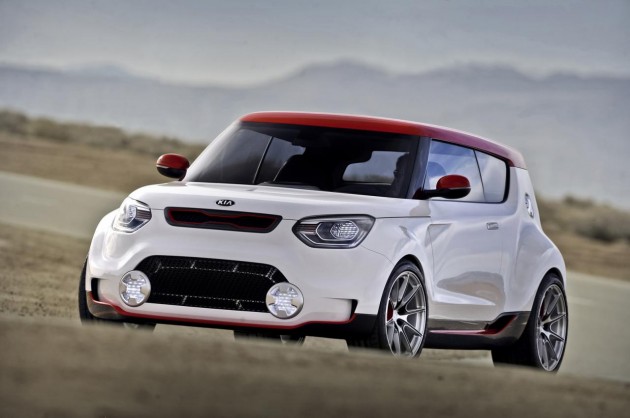 Looking like it has taken a dose of steroids, the Kia Track'ster concept features ultra fat wheels and heavily pumped wheel arches. There's also a new front bumper bar and fascia, with a gaping carbin fibre air intake and sharp side intakes for the brakes, and a matching rear bumper bar.
Under the bonnet, Kia has fit a 2.0-litre turbocharged four-cylinder engine producing a very decent 186kW of power. To make this little pocket rocket even more desirable, the power is sent through to an electronically-controlled all-wheel drive system, after passing through a six-speed manual transmission.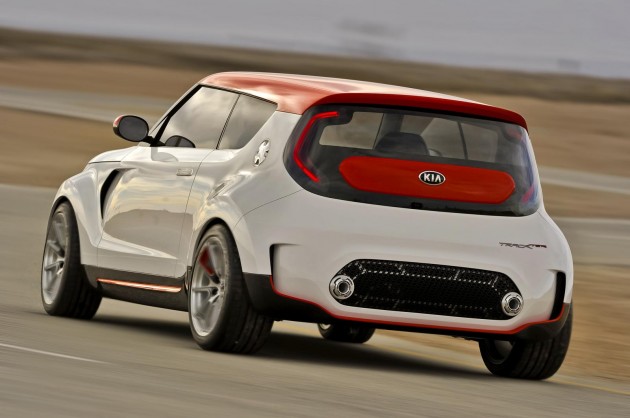 Tom Kearns, Kia chief designer, recently described the idea behind the concept at its unveiling, saying,
"The idea was to make the Track'ster tough looking, like a bulldog. But the car had to be approachable as well. We wanted to base the car in reality so people instantly knew it was a Soul, but with a lot of attitude. It had to be a bold interpretation that would change people's conceptions of what a sporty Kia could be."
As for market production, Kia does not have any plans unfortunately. Kearns added,
"Concept cars are icing on the cake. They allow KMA's design team to dream about what could be. Whether that dream becomes a reality or not is a separate question."
Other cool highlights include a set of lightweight HRE-K1 monoblock billet 19-inch wheels wrapped in 245/40 front and 285/35 rear tyres, high performance 14-inch front discs and 13.6-inch rear discs clamped by six-piston Brembo front calipers and four-piston rear calipers, and a full sports lowered suspension kit.
Inside carries a similar performance theme, with sports seats covered in suede, a sports steering wheel also in suede, as well as the overall airy environment carried over from the Soul.
What do you think of it? Looks pretty awesome, almost like it's ready to enter the WRC.