Kia is set to take on the German big hitters in its home country with the just-revealed Kia K9 rear-wheel drive sedan. The K9 – K standing for Korea – will be the company's first rear-wheel drive sedan.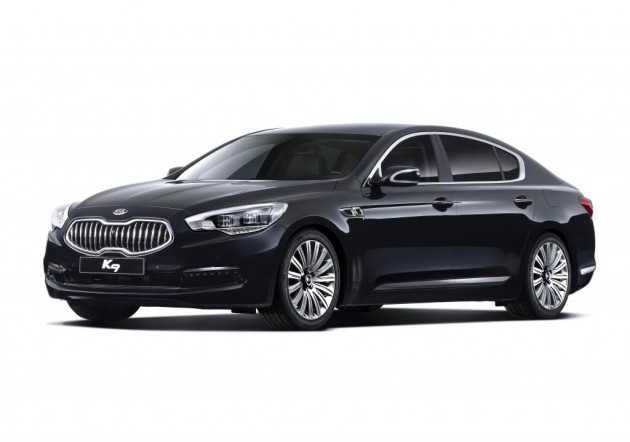 In terms of design, Chief designer at Kia Peter Schreyer has previously said the new sedan takes inspiration from Italy's Maserati Quattroporte, offering elegant lines, a proud dominating face and plenty of road presence. The grille layout shares some similarities as the Maserati, and is dressed in chrome.
Behind the grille, the new Kia K9 is expected to come with a range of Hyundai powerplants, from the 3.8-litre V6 as seen in the overseas Genesis Coupe producing 248kW, as well as the 4.6-litre V8 producing 287kW, to the new Tau 5.0-litre V8 producing 320kW. All versions will be backed up by an automatic transmission.
The model will be Kia's new flagship, ready to take on the world, rivalling the likes of the Mercedes-Benz E-Class and BMW 5 Series. Unfortunately, it won't be heading to Australia any time soon, or very far outside of Korea in fact. Kia is yet to announce export markets, only mentioning "the name for export markets, as well as overseas launch timings, will be revealed later this year".
Soon-Nam Lee, director of the overseas marketing group, said in a recent release,
"K9 is our first rear-wheel drive large sedan, created without compromise in its design, driving performance and new technologies. K9 sets a whole new level of standards and values in the large sedan segment, and its design will be another Kia demonstration of our brand's power to surprise the world."
The K9 will join other K-series vehicles currently on sale in Korea during the first half of this year. Other K cars include the K5, which is like our Kia Optima, and the K7, known as the Cadenza in some overses markets.