Ford US has revealed the new 2014 Ford Fiesta ST. The performance compact hatch will compete in the US market with the likes of the Fiat 500 Abarth and the MINI Cooper S, sporting a 147kW EcoBoost engine.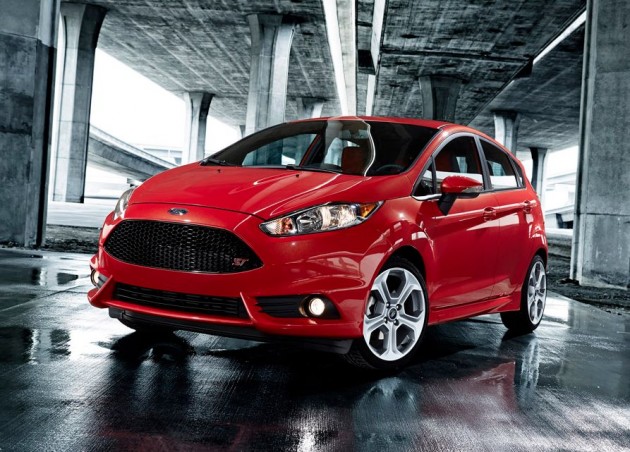 Although the Australian-spec version has already been revealed, this is the first time the US-spec Fiesta ST has been shown. It will make an official debut at the 2012 Los Angeles Auto Show later this week.
Unlike the Australian version, US customers will get a slightly tweaked version of the 1.6-litre EcoBoost turbo engine. It will produce 147kW of power and 290Nm of torque, which is quite a bit more than the 132kW and 240Nm that's heading our way.
The rest of the car is pretty much the same. It features sports suspension, beefy brakes, and a quick ratio steering box. It also gets a torque-vectoring differential for the front wheels, and a three-stage stability control system with 'Standard', 'Sport', and 'Off' modes.
On the outside the US-spec Fiesta ST showcases a neat bodykit with front and rear spoilers, side skirts, and an aggressive rear diffuser section. The sports hatch also rides on a set of 17-inch alloy wheels, while inside the ST is tastefully trimmed in enthusiastic and sporty highlights such as bucket seats and red trimmings.
In Australia, the Fiesta ST will go on sale during mid-2013. It will compete in the market with key rivals such as those mentioned above, and the popular Volkswagen Polo GTI.