There have been a lot of rumours and speculation in regards to Kia introducing a performance sedan, based on the GT concept car unveiled in 2011. Now it seems such a model is on the way and is part of Kia's midterms plans.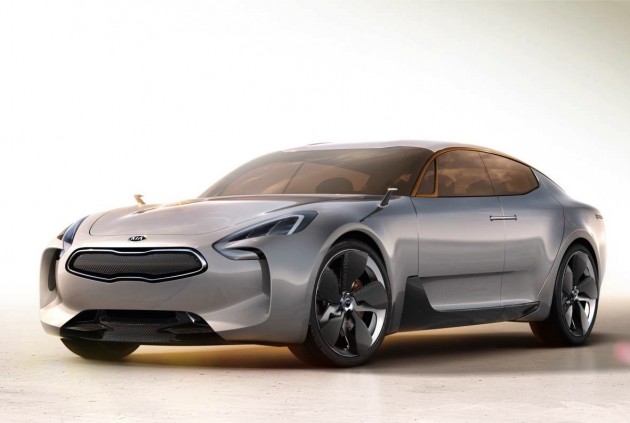 According to a recent Automotive News report in the US, Kia has confirmed a GT-based model is part of its official midterms product plans. The new model is set to offer a clear performance edge compared with the company's only other rear-wheel drive sedan, the overseas-only K900.
Like the GT concept (pictured), the production model is expected to showcase Kia's very latest design language, including the tiger nose front grille and a swooping four-door coupe shape. It's also likely to carry much the same proportions as the concept, with relatively short front and rear overhangs for the ultimate driving dynamics.
Peter Schreyer, Kia and Hyundai's global design boss, spoke about the concept during its unveiling in 2011, suggesting that if a production version were to appear it would adopt most of the concept's features. He said, "the layout, the basic proportions, it is all very realistic."
In terms of on-road performance, details are yet to be uncovered. The concept is powered by a 3.3-litre twin-turbo V6 producing 290kW and 534Nm of torque. If the figures are anything like this, Kia could have quite a competitive – and popular – vehicle on its hands.
As for a possible Australia introduction, it's too early to know. Speaking with Auto Express, Lee Soon-nam, Kia's vice president of overseas marketing, said a launch is slated to take place in late-2016 or early-2017.