Okay, so the 2017 HSV Clubsport R8 LSA and Lexus GS F aren't perfect head-to-head competitors on paper. One produces around 20 per cent more power than the other, while one is priced around 80 per cent higher. But, they are both extremely quick V8 sports sedans with rear-wheel drive, attractive driving dynamics, and strong visual presence.
What we're dealing with here is the recently-updated Lexus GS F and the MY17 HSV Clubsport R8 LSA 30th Anniversary Edition. Obviously the HSV wins the name-length war, but let's take a deeper look at these two muscle sedans. Both compete in what is becoming a dying vehicle class, as performance SUVs and sports cars take over.
Prices for the Lexus start at $153,540, and start from $82,990 for the HSV (both excluding on-roads). As you can see, the HSV is a bargain in comparison.

2017 HSV Clubsport LSA vs Lexus GS F – THE SPECS
| | 2017 HSV Clubsport LSA | Lexus GS F |
| --- | --- | --- |
| Engine | 6.2-litre supercharged V8 | 5.0-litre naturally aspirated V8 |
| Output | 410kW@6150rpm / 691Nm@4200rpm | 351kW@7100rpm / 530Nm@4800-5600rpm |
| Transmission | Six-speed manual | Eight-speed auto |
| Drive type | Rear-wheel drive, LSD | Rear-wheel drive, torque vectoring |
| Wheels | F: 20×8.5, 255/35 R: 20×9.5, 275/35 | F: 19×9.0, 255/35 R: 19×10, 275/35 |
| ANCAP | Five stars (scored 35.06 out of 37) | Not tested (old GS 5 stars) |
| Tare weight | 1845kg | 1825kg |
| Power-to-weight | 4.5:1 (kg:kW) | 5.19:1 (kg:kW) |
| Official fuel economy | 15.1L/100km | 11.3L/100km |
| Economy during test | 15.5L/100km | 12.8L/100km |
| Fuel capacity/type | 71L/95 RON | 66L/98 RON |
| Power efficiency | 27.15kW:L/100km | 31.06kW:L/100km |
| 0-60km/h | 2.68 seconds* | 2.63 seconds* |
| 0-100km/h | 4.85 seconds* | 5.08 seconds* |
| 60-130km/h | 4.58 seconds* | 5.44 seconds* |
| 1/8 mile | – | – |
| 1/4 mile | 13.16 seconds at 181.5km/h* | 13.24 seconds at 180.2km/h* |
| Max acceleration | – | – |
| 100-0km/h braking | 2.82 seconds at 35.03 metres* | 2.89 seconds at 36.64 metres* |
| Max deceleration | – | – |
| Decibel at idle | 56* | 50* |
| Peak decibel at 60-100km/h | 91* | 89* |
| Priced from | $82,990 | $153,540 |
* Figures as tested by PerformanceDrive on the day. Factory claims may be different
2017 HSV Clubsport LSA vs Lexus GS F – THE INTERIOR
Both of these sedans are at the large end of the market in terms of cabin space. The Commodore-based Clubsport offers slightly more room in our opinion, with an airier and open environment compared with the more intimate setting in the Lexus. Rear seat room is also abundant in the HSV – it would be hard to find a similarly-priced sedan on the market with more space in the back. The Lexus is a touch confined, against the HSV specifically, but still offers copious levels of comfort and room to move about.
We love HSV's front bucket seats. They're soft and very supportive, hugging you in without feeling like you're sitting in a washing basket. If there's one thing that is missing, it's the contoured feel. The front seats in the Lexus feel like they are tailor-made to suit the contours of a human being, whereas the Clubsport's items are more of a one-size-fits-all approach. There's both upsides and downsides to this, as larger-proportioned people might not fall into the tolerances Lexus has set for its ideal 'human being' shape. We prefer the Lexus chairs over a long-distant journey.
In terms of gadgets and on-board technologies, the Lexus shines brightest here. Understandably, when you remember the price difference. HSV has equipped the Clubsport R8 with a Holden MyLink-based touch-screen interface. It works okay, although not really excelling in any particular area. Expect to experience some minor delays jumping between apps, and noticeable delays with the standard rear-view camera as it's activated and deactivated. On-board apps include Pandora and Stitcher online radio, sat-nav, and HSV's EDI performance portal with various live readouts.
Most of the cabin materials in the HSV are robust yet lack refinement you might expect in an $80,000 car. Some interior panel gaps are uneven and trimmings don't feel all that special. We like the soft Alcantara-like surfaces on the dash, but the carbon-fibre-look patterns and chrome plastic pieces are a little off-putting. It all feels relatively well-built though with good refinement levels, and no creaks or rattles when driving. This test vehicle is also fitted with an optional, eye-catching two-tone red and black upholstery theme for that 'clubsport' look.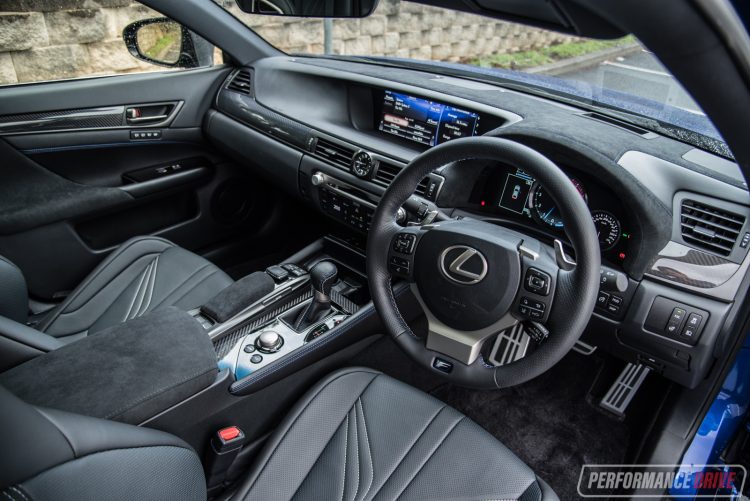 Over in the Lexus it's immediately obvious this is a luxury-focused vehicle, primarily. And then sportiness is added on. Everything thing you adjust is electric, including the steering column and seats, and the massive LCD wide-screen media interface looks like an advanced computer against the HSV's calculator. We're not a huge fan of the 'Remote Touch' mouse tracking system with its cursor that jumps from menu to menu. You can adjust the sensitivity but it does seem overly fidgety. Fortunately, there is a home button next to the 'mouse' that you can use to escape if you've dived too far in.
On-board apps include plenty of luxury-aimed features, including Lexus Enform and a complex sat-nav system. And while it misses out on the performance readouts of the HSV, you can configure the screen to display a number of different things at once, such as split-screen sat-nav. Almost all surfaces look and feel superior, with exceptional build quality and attention to detail. Real carbon fibre ($2500 option) is also a welcome touch to add some exotica, with super-soft leather for the seats and contrast stitching. Some buttons and controls are carried over from Toyota products, such as the cruise control stalk, which can be a little depressing if you know your Toyotas. But these will probably go unnoticed to the majority of the population.
2017 HSV Clubsport LSA vs Lexus GS F – THE POWERTRAIN
At the hearts of these cars, the Lexus continues with its 5.0-litre naturally aspirated V8. It's derived from the original '2UR-GSE' V8 from the IS F from 2008, only now it uses both direct injection and port injection, and operates with dual variable valve timing. The compression ratio is also lifted from 11.8:1 in the IS F to 12:3:1 in the GS F. Along with other calibrations, the engine now produces 351kW and 530Nm (up from 311kW and 505Nm).
This is a very sophisticated engine, especially up against the HSV's 6.2-litre pushrod-equipped, supercharged V8. There's forged conrods and titanium intake and exhaust valves, and heads developed by Yamaha, helping it reach over 7100rpm. It's efficient, too, operating on both the Atkinson's Cycle during low loads and Otto Cycle for performance.
This is all sent through Toyota's 'AA80E' eight-speed automatic transmission – also known as the Aisin TL-80SN (Aisin's parent company is Toyota). The transmission started out as the world's first production eight-speed automatic for a passenger car. For the GS F (and IS F and RC F) the unit features a unique sports direct-shift system with a torque converter lockup available for all forward gears except first, with a differential ratio of 2.937:1. There's no limited-slip differential, per se, but instead it uses an electronic (not brake-type) torque-vectoring system to evenly distribute torque to the left and right wheels.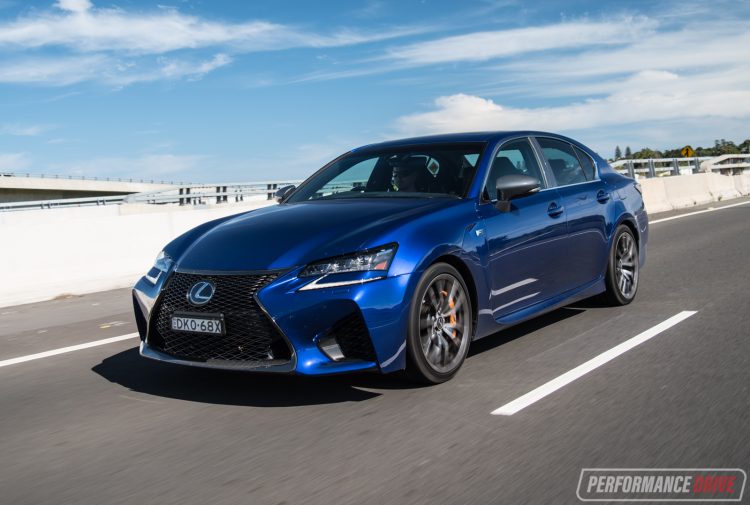 Over in the Commodore-based Clubsport you'll find one of GM's finest under the bonnet. It's an 'LSA' 6.2-litre V8 breathed on by a 1.9-litre four-lobe Eaton Twin Vortices Series supercharger, running about 9 psi. The LSA is based on the LS3, however, a number of internal components are beefed up to cope with the extra pressure. The crankshaft is forged steel, bolted down with the now-standard six-bolt main caps that are cross-threaded and made from nodular iron (four-bolt mains on Lexus, except with stronger plastic-region bolts). Meanwhile the cast aluminium pistons are attached to a set of forged conrods, using a 9.1:1 compression ratio.
Matched up to the motor is one of the manliest transmissions on the market. It's a good ol' six-speed manual by Tremec (TR-6060), feeding monster twist down to a mechanical limited-slip differential using a 3.73:1 final gear ratio. The automatic version adopts a taller 3.23:1 final drive, however, all gear ratios are different. For example, fourth gear in the manual is a straight-through 1:1 drive while the automatic's fourth gear isn't even overdrive by this stage, at 1.15:1. Overdrive occurs in fifth, at 0.85:1 in the auto and 0.80 in the manual. In either transmission, each gear speed is extremely broad, as we'll talk about in the drive section below.
2017 HSV Clubsport LSA vs Lexus GS F – THE DRIVE
The Lexus V8 is the more power-efficient engine, in that, it produces more power for the fuel it uses. A quick calculation dividing the 351kW output to the 11.3L/100km official average consumption results in 31.0kW per litre of average consumption. In the more powerful HSV, the calculation results in 25.15kW/L. We must commend the Lexus engine in this area given it produces only 60kW less than the HSV despite firing a combustion volume 1.2 litres smaller. If you include the Clubsport's supercharger, which theoretically adds at least 1.0L of equivalent combustion capacity, it's easy to see the GS F's V8 is the more refined and technically advanced engine.
Power delivery is intense and immediate in the Clubsport, while the long-legged GS F's sweet spot isn't reached until higher in the revs. Heated driving in the GS F, using the paddle shifters, changing down gears, keeping the revs high and loud, is very rewarding. You can apply the power from around 4000rpm and it grumbles, roars, and soars up through the rev range, taking you on a memorable aural journey, hitting all kinds of lovely notes and tones throughout. This is a hammering V8 soundtrack that rumbles on the overrun, sending goosebumps down your spine. Despite featuring artificial sound enhancement through the speakers, it is easily one of our favourite naturally aspirated V8 soundtracks on the market.
Not to be outdone, the LSA lets out an almighty bark. It features an active muffler which opens at about the mid-range of the revs, accompanied by a unique metallic 'schlink' sound as the valve opens. The soundtrack pattern doesn't take you on much of a journey like in the GS F, instead bursting out with a nice yet typical small-block Chevrolet note. This is mono-tone in contrast to the Lexus's full stereo surround sound experience.
Where the HSV wins is with pure acceleration. This thing really hauls, pushing you back hard into your seat. You'll see passengers grabbing onto anything they can as you unleash the full power. First gear takes you well past 60km/h, and it happens in no time, so long as you don't bog down getting off the line. From there each gear shift supplies you with relentless forward force, propelling the car like it's just been flung from a catapult. The rear end squats down a little bit, but not much. This doesn't help the tyres as they try hard to grasp the road. If you change from first to second smoothly and quickly enough it will wheelspin for the entire second ratio. Get more aggressive and you can expect an audible chirp into third and fourth gear.
The Lexus is almost as exiting as the HSV in terms of acceleration, but it is slower. From take-off is where the Lexus suffers most. There's no launch control or decent way to shoot off the line. All you can do is build the revs on the brake pedal and release the brake. But even then, the gear speeds are very broad, even for an eight-speed, and that engine, as mentioned, likes to play at higher revs. In fact, peak power is reached at an impressive 7100rpm. But this means 0-100km/h doesn't carry the wow-factor of the engine's characteristics and sound.
According the standard acceleration sprints, we timed 0-100km/h in 5.08 seconds in the Lexus and a best of 4.85 in the Clubsport. The Clubsport does come with launch control (manual only), however, the best time we could manage was 5.03 with the system. Our tests, using a Racelogic VBOX Sport, showed human clutch balancing and revs resulted in quicker launches. Across the quarter mile the GS F stopped the clock in 13.24 at 180.2km/h, against the Clubsport's best of 13.16 seconds at 181.5km/h. In-gear acceleration is also superior in the HSV, with 60-130km/h taking 4.58 seconds against the GS F's 5.44 seconds.
When it comes to braking, the points go to the HSV again. For the 100-0km/h emergency stop the GS F's best recorded test was 2.89 seconds covering just 36.64 metres, while the HSV stopped the clock in 2.82 seconds in 35.03 metres. Both vehicles perform deceleration duties extremely well out on the open road, with confidence-inspiring composer and utter solidity, even when slowly quickly from very high speeds. We do credit the Lexus most though as it does feel more planted under braking while leading into corners, thanks to its lower stance, tauter suspension, and more precise steering.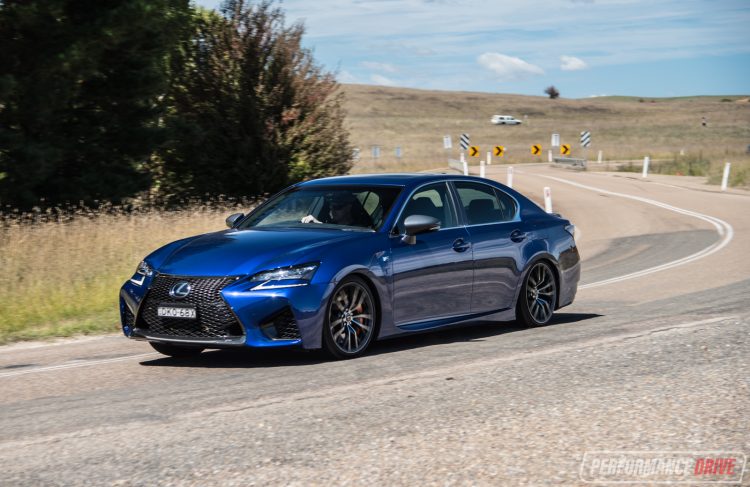 Finally, the handling. The Lexus offers the driver various damper modes via the new-for-2017 adaptive variable suspension (AVS), while the torque-vectoring differential offers a broader ability range. Drivers can actually change the differential's characteristics – Normal, Slalom, Track – to experience a different drive character. We can't tell the difference between Slalom and Track, with the main change noticeable during deceleration and rolling into corners. Lexus says the trick diff uses an electric actuator and multi-plate clutch mechanism, and the on-board computer can make changes 1000 times per second. Fortunately, it's not a brake-type unit either. Instead, it directs or reduces driveshaft twist between the left and right wheels via a clutch. This, paired with the adaptive dampers, makes the GS F the more advanced and more dynamic of the two.
That's not to say the HSV isn't fun. In fact, it's probably more fun as it delivers what you put in. The mechanical differential is a lot more predictable and consistent, meaning, advanced drivers will warm to the drive characteristics quicker than the GS's. If you point it in and apply too much power, the rear end will step out for a controlled drift. If you do this in the GS F it often remains straight and true, with the clever systems keeping the car planted and straight. Not that the GS F feels unnatural, the HSV is definitely the more adjustable handler, allowing the driver to make finer-control adjustments with little help from electronics. HSV does offer some driving modes for the stability control, with the Sport and Track modes allowing a surprisingly high level of wheel slip and slide angle without intervention.
2017 HSV Clubsport LSA vs Lexus GS F – THE VIDEO
2017 HSV Clubsport LSA vs Lexus GS F – THE VERDICT
These two are very similar vehicles, despite the gapping power and price differences. Both offer extremely quick acceleration and awesome soundtracks, and they are equally accommodating inside albeit with slightly different personalities. Where the two are divided widest is with refinement and technology. Obviously the Lexus takes the lead in this department, in terms of luxury, features, and driving technologies, giving it broader driving dynamics (and customer appeal?) than the HSV. The Lexus will be quicker in the hands of a wider variety of drivers, too.
As for our old friend the HSV. It's been very exciting watching the company tune and re-hone the VF over the past 2-3 years, and really transform the humble Commodore underpinnings into a true performance sedan that can compete with the world's best. No doubt, this latest and last edition of the Clubsport is the finest and most complete example yet.
If you love good ol'-fashioned V8 muscle with classic drive characteristics, the Clubsport is the way to go. It is also likely to hold its value better than the Lexus. On the other hand, if you're not interested in making big patriotic statements and you simply want a very fast, advanced, and genuinely luxurious V8 sedan, the Lexus is your pick. We'd take the HSV mostly due to its collectability and big-cuddly-bear friendliness. If the Clubsport wasn't going out of production though, we'd take the GS F.
As always, if you're thinking about buying a new car don't forget to click here to speak with our car buying specialists.