Some might remember the Kia SUV teaser from last week, previewing an all-new large luxury SUV. Well, the company has now unveiled it at the Detroit auto show. It's called the Telluride concept.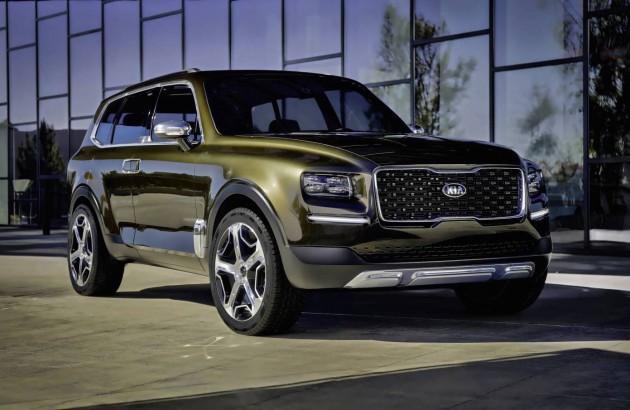 Kia is calling the new SUV concept a glimpse into the future, giving us its vision of a full-size SUV, with three-row, seven-seat capacity, bold styling, and state-of-the-art technology inside and out.
It is just a concept at this stage but it is positioned, virtually, above the Sorento in the company's showroom range. It uses an existing platform, Kia says, with unique doors that open up like barn doors to expose the grand interior.
Inside you'll find four captain chairs in the first two rows and a folding third row bench. The chairs in the middle row can be reclined almost completely flat with large fold-away footrests for supreme comfort.
Passengers are treated to a Harman Kardon seven-speaker stereo system complete with Harmon wireless headphones. There's also wireless smart phone charging docks, and 3D-printed components for the dash.
The most interesting part of the Telluride concept is what lies beneath the bonnet. There rests a 3.5-litre V6 petrol engine matched up to a powerful electric motor system. These combined to offer a stout 298kW, while returning an average consumption of just 7.8L/100km.
As for the exterior design, we're sure you'll agree it looks quite strong and imposing. It's the work of Kia's Design Centre in California (KDCA), with overall dimensions measuring over five metres in length and two metres in width. In fact, it is 11.17cm taller, 11.93cm wider, and 24.13cm longer than the current Sorento; it's massive. Speaking about the SUV, Tom Kearns, chief designer at Kia Design Center America, said:
"The Kia Telluride makes an aesthetic statement for the Kia brand as a bold, all-new luxury SUV with an abundance of advanced technology, focusing particular attention on the experience and comfort of second-row occupants. Longer, wider and taller than the recently redesigned Sorento CUV, Telluride allows us to envision what a full-size seven-passenger SUV from Kia could look like."
Kia specifically says there are no plans to bring the Telluride to production, however, it says it does have "a history of delivering production vehicles that bear strong resemblance to preceding concepts, and Kia's large SUV is anything but a utopian fantasy".