Tesla has announced the version 7.0 software update for its vehicles, introducing a range of Autopilot technologies that are capable of autonomous driving.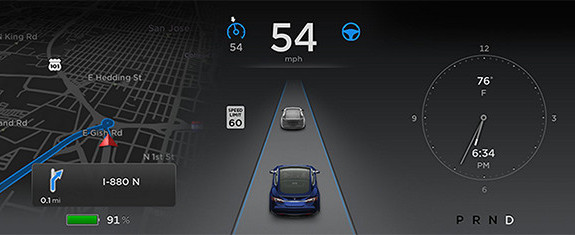 The Autopilot tech includes Autosteer, Auto Lane Change, Automatic Emergency Steering and Side Collision Warning, as well as Autopark systems.
Starting with Autosteer, it works on keeping the car in the lane via Traffic-Aware cruise control. The technology is designed to assist the driver on the road, making the "driving experience easier". Even when engaged though the driver must keep their hands on the wheel for it to operate.
Changing lanes can be quite dangerous at times so Tesla is introducing its Auto Lane Change system which works in tandem with the Autosteer function. All the driver has to do is hit the indicator stalk when in Autosteer mode and the car will change lanes all by itself, when it is safe and clear.
Side Collision Warning uses the same sensors to detect objects close to the side of the car, and if need be, the car will warn the driver if another object is getting too close. This is a big extension on blind-spot warning systems that are available on various cars.
Lastly, the Autopark system is for parallel parking. During low speeds the car will read the side of the road and notify the driver via a 'P' light on the dash when a space comes along. Then it's just a matter of letting the car do the parking for you. As reported yesterday, company CEO Elon Musk has confirmed the 7.1 update will allow the driver to exit the car during the parking.
Aside from the Autopilot technologies, the 7.0 update includes a new driver-focused instrument cluster. It now includes real-time information in relation to its surroundings, using the various lane departure and blind-spot detection sensors. These updates are now available on the Model S, and Model X SUV overseas – the Model X doesn't arrive in Australia until at least well through 2016.