Jaguar has confirmed it is working on an insane new performance sedan based on the XE, called the XE SV Project 8, which is being developed via the SVO division.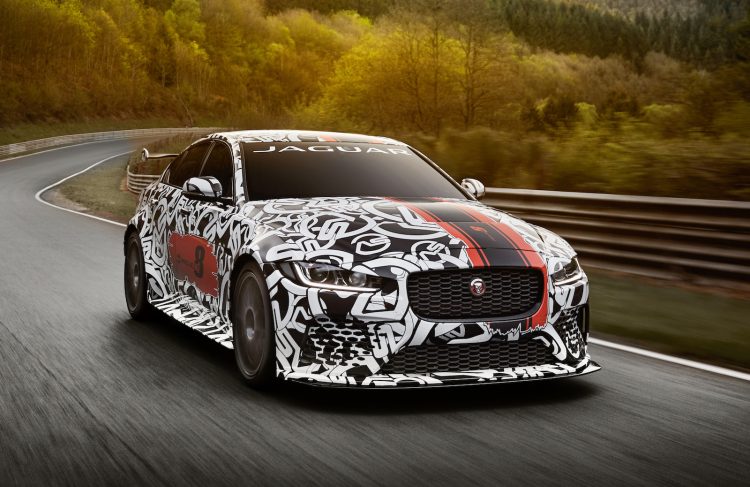 Special Vehicle Operations is currently developing a very serious version of the XE mid-size sedan, confirming that it will feature an incredibly powerful 5.0-litre supercharged V8 producing 441kW. This will blow every other mid-size sedan out of the water. Not only that, it will become the most powerful road-legal Jaguar in history.
As you can see by the prototype, it's going to feature a wild aero kit with a huge rear wing, deeper front chin spoiler, chunky rear diffuser, and wider wheels encompassed in pumped wheel arches. John Edwards, managing director of Jaguar Land Rover Special Operations, said:
"The time is right for SVO to produce the most extreme performance road car in the history of Jaguar. The SVO team is possessed by the spirit of performance and committed to creating the most thrilling driving experience imaginable. Our clients worldwide were thrilled by the F-TYPE Project 7. The new XE SV Project 8 takes aerodynamics and performance engineering to another level – it is conceived for enthusiasts and the most discerning collectors."
There are plans to put the beast into limited production, with Jaguar saying the price for such an extreme sports car will reflect the level of performance and exclusivity. Jaguar says it will be producing 300 examples, which will be hand-assembled at SVO's Technical Centre in Coventry, UK.
More details including all specifications will be revealed on June 28, ahead of a 'dynamic' debut at the Goodwood Festival of Speed on June 30. Click play below for a preview.