Some purported patent images have surfaced online which depict the much-rumoured new Jeep Wagoneer. The images show an SUV that looks to be inspired by the current Grand Cherokee design, although stretched.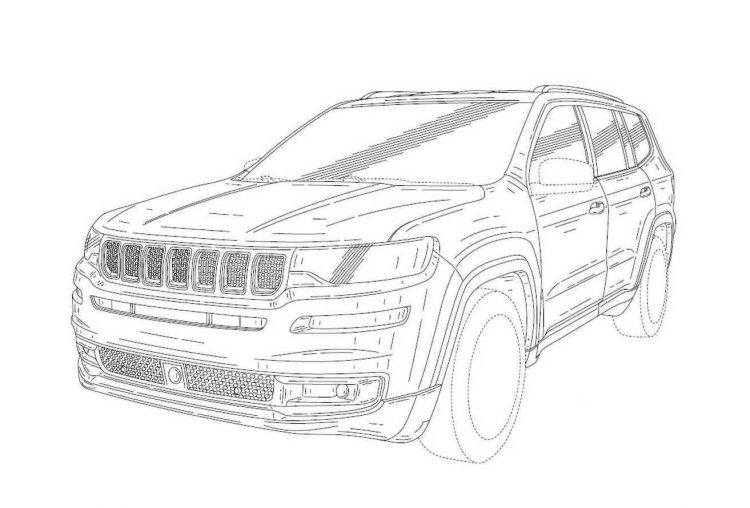 Jeep, a brand that's synonymous with SUVs, is yet to provide a product for the popular seven-seater market space. However, there have been many reports and rumours regarding a revival of the classic Wagoneer of the Sixties, Seventies, and Eighties.
The images show a body design very similar to the current Grand Cherokee (pictured), only the rear overhang is longer, with a larger rear quarter window, and a wrap-around rear windscreen to envelop what looks to be a bigger cargo area. This area is expected to house a third row of seats.
At the front the patent images show some unique headlights that are larger than those on the Grand Cherokee, and the bumper bar and detailing is very similar albeit with larger highlights, such as the fog light clusters and indicator indentations.
Around at the back it also looks pretty similar to the Grand Cherokee, except the windscreen is uniquely shaped and extends past the D-pillar, while the lower bumper bar has some bespoke contours. Tailgate handle placement and the tailgate panel appear the same, although the taillights are more oval and rounded compared with the boxier shape on the Grand Cherokee.
Overall, the patent images seem to match the vehicle previewed in an earlier image that was leaked online in October last year.
Fiat Chrysler Automobiles has essentially confirmed plans for a bigger SUV than the Grand Cherokee, with Jeep brand manager Mike Manley suggesting there could be a Wagoneer and Grand Wagoneer. The two variants could be separated by a utilitarian focus and practicality and the other focusing on luxury.
Production is set to take place at FCA's Warren Truck facility in Detroit starting in 2018, with market entry tipped to take place in 2019.