Through the pain and suffering it has endured from the dieselgate scandal, Volkswagen is now trying many different avenues to make amends with environmentally-friendly engines.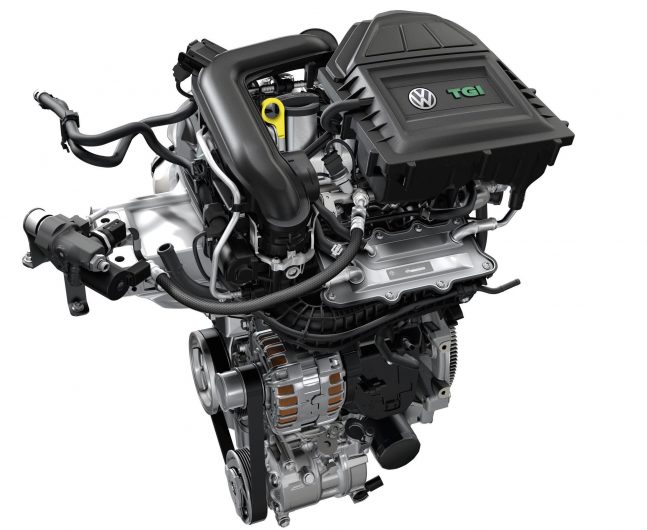 The latest was unveiled at the 38th annual Vienne Engine Symposium; a 1.0-litre three-cylinder turbo that can run on compressed natural gas. CNG is to many countries what LPG is (or was, in Australia), an alternative fuel that can be sourced more cheaply than petrol or diesel.
To make the new VW 1.0 engine even more environmentally friendly, a heating element cleverly integrated into the lambda probe (exhaust oxygen sensor) brings the catalytic converter to optimum operating temperature within 10 seconds of cold starting.
Volkswagen's head of petrol engine development, Dr Wolfgang Demmelbauer-Ebner, had the following to say about the clever new unit:
"Due to its chemical composition, natural gas as a fuel already reduces CO2 emissions if it comes from fossil sources. If, however, it is produced in a sustainable way, for instance as biomethane from agricultural waste, then looked at from well-to-wheel it facilitates a form of mobility that produces appreciably less CO2.
"We use the term e-gas to describe synthetically produced CNG that is made out of water and CO2 from renewable power generation's excess current. e-gas is ideal for making renewable power usable for the transport sector and for storing it. It is in practical terms a partner in the switch to renewable forms of energy."
The 1.0 TGI is designed for small cars, meaning it could see usage in the Polo, Up! or South American Gol. It produces 66kW, and can run on either petrol or gas.
We say VW should bring an LPG version to Australia before the fuel disappears from the public consciousness altogether. It could give motorists a cheap, environmentally-friendly option for their small cars.