The stunning Jaguar C-x17 concept SUV has made its Australian debut at #thearthunter pop-up art exhibition in Alexandria, Sydney. The showcase was put together by art website The Cool Hunter.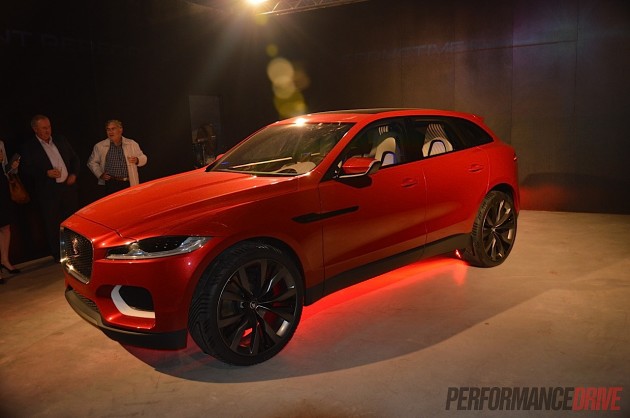 With a guest list of around 200, including some of "Sydney's coolest" individuals, the Jaguar C-X17 concept was given its own special display room, in the dark. About every three minutes a spot light lit up the room to give everybody a glimpse for just a few seconds.
In the metal, the C-X17 looks absolutely beautiful from every angle. It's low and sleek yet slightly perched up as a crossover. From the front it showcases Jaguar's latest styling language with angled cat-eye-like headlights, a forceful grille with a prominent upper edge, and a pouncing set of flanks that wrap into huge intakes at the front.
The concept is the updated version which was revealed at the Brussels Motor Show in Belgium last year. It features a sexy Italian Racing Red colour scheme with soft white leather inside. Peaking inside you can also see a trio of touch-screens, including one on the dash, centre console, and rear centre console.
On attendance at the event was Matthew Beaven, Jaguar's chief exterior designer from the Jaguar Advanced Design studio in Whitley, UK. He was flown in especially for the event. He said,
"This partnership with #thearthunter is very exciting. The core of the Jaguar brand is that it makes you feel alive. And art and design are the foundation of that.  It's a great way to showcase the pinnacle of our design and technology in a way that talks to a culturally diverse audience."
The exhibition is all in the name of art, with 120 extraordinary art pieces and displays scattered in various rooms within the establishment along side the C-X17.
Jaguar is yet to confirm plans of a production version of the SUV, however, it is highly likely. It will be Jaguar's first-ever SUV/crossover.
For the moment, it previews the future possibilities of Jaguar's new, all-aluminium iQ(Al) scalable platform which will make its showroom debut sitting under the upcoming Jaguar XE mid-size sedan.