A show-stopping bonanza of ultra-rare cars will go up for auction in Sydney later this month, including a legendary Holden Torana A9X Aussie touring car, an Aston Martin DB5, and a Ford Model T.
Topping the auction is expected to be a 1964 DB5, with an estimated worth of between $1.5 and $1.6 million. The Torana, which is an A9X raced by racing legend Bob Morris, is expected to garner up to one million too.
Bob Morris took the car to victory at the 1979 Australian Touring Car Championships, and was the first time a private team had beaten the factory team racers, including against the likes of Peter Brock. James Nicholls, of Mossgreen Collectors' Cars, spoke of the A9X, saying:
"Still in running order, this rare Torana is highly original, and still showcases the livery it wore in 1979. An exceptional rally car, it holds a special affection with Australian motorsports enthusiasts, and is of particular significance to the Holden brand and its list of Australian automotive sporting achievements."
The car has been in the hands of its current owner since 1979, with its last race taking place at Wanneroo in 1980, placing fifth. It's since been kept at the York Motor Museum and remains untouched since its race days.
Other highlights for the Sydney event include a 1959 Maserati Tipo 61 'Birdcage' Recreation, estimated to fetch up to $650,000, along with a 1986 Ferrari Testarossa estimated at up to $240,000, and a 1983 Porsche 930 911 Turbo expected to go for up to $190,000.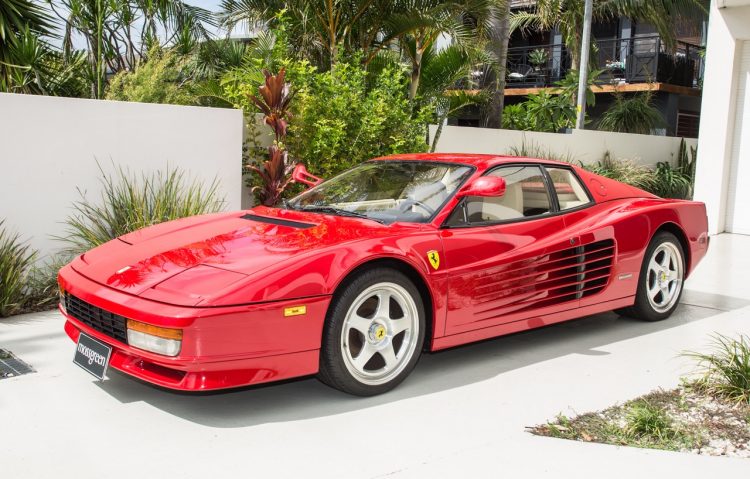 The auction event, hosted by Mossgreen, will take place at Carriageworks, 245 Wilson Street, Eveleigh, on Sunday May 28, with viewing times on the Friday and Saturday beforehand. See below for the highlight lots, and head over to Mossgreen for more information.
Lot 1: 1966 Triumph Bonneville T120TT Special – estimated at $20,000-22,000
Lot 2: 1959 Mercedes-Benz 220S – estimated at $15,000-18,000
Lot 3: 1913 Model T Ford – estimated at $32,000-38,000
Lot 4: 1959 Porsche 356 'A' – estimated at $170,000-185,000
Lot 5: 1964 Aston Martin DB5 – estimated at $1,500,000-1,600,000
Lot 6: 1933 Reo Flying Cloud Two-Door Coupe – estimated at $35,000-40,000
Lot 7: 1977 Ex Bob Morris Holden A9X Hatchback Torana – estimated at $850,000-1,050,000
Lot 8: 1962 Porsche 356 T-6 'Notchback'  – estimated at $90,000-120,000
Lot 9: 1959 Maserati Tipo 61 'Birdcage' Recreation – estimated at $600,000-650,000
Lot 10: 1953 Alvis-Healey Three Litre Sports Convertible – estimated at $35,000-40,000
Lot 11: 1954 Alvis TA21G Fixed Head Coupé – estimated at $150,000-165,000
Lot 12: 1940 Packard One-Ten Drop Head Coupe – estimated at $40,000-45,000
Lot 13: 1970 Aston Martin DB6 MK 2 Vantage – estimated at $750,000-850,000
Lot 14: 1936 Rolls-Royce 25-30 HP – estimated at $120,000-160,000
Lot 15: 1983 Porsche 911 (930) 3.3 Litre Turbo – estimated at $170,000-190,000
Lot 16: 1957 Mercedes-Benz 190SL – estimated at $200,000-220,000
Lot 17: 1956 Austin-Healey 100M – estimated at $220,000-250,000
Lot 18: 1936 Packard '120' – estimated at $48,000-54,000
Lot 19: 2013 Chevrolet Corvette 60th Anniversary 427 Convertible – estimated at $135,000-145,000
Lot 20: 1986 Ferrari Testarossa – estimated at $220,000-240,000
Lot 21: NSW 36 – Vehicle registration – estimated at $400,000-440,000