Could this be the much-anticipated 2016 Toyota HiLux? The image is apparently taken from an official brochure in Thailand, and it appears to resemble the vehicle spotted in a Toyota workshop last month (bottom of page).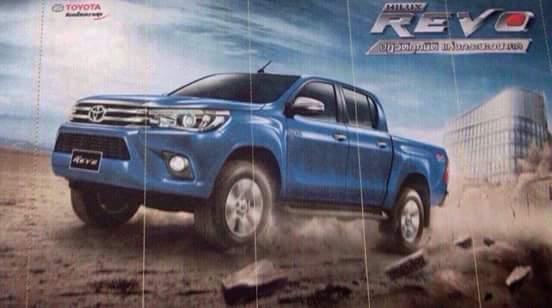 A number of new-generation utes are hitting the scene this year, including the new Mitsubishi Triton (launching in Australia next week), the already-landed new Nissan Navara, and the next Ford Ranger. It seems Toyota could be one of the last to arrive.
In the image, which was first published on the HiLux Revo Thailand Facebook page, you can clearly see an updated design. It also appears to have grown quite a bit compared with the existing model, with much fuller wheel arches and a taller cabin.
In Thailand, where utes like this are extremely popular, Toyota usually gives a special name to the HiLux. The last model was called the HiLux Vigo, while the new version could be called the HiLux Revo, as indicated by this apparently-official image.
The vehicle in the photo does seem to mesh in well with Toyota's current design language, with more defined cheekbones, thinner and wider headlights, and neat little driving light clusters in the front corners just like the pre-production version spotted below.
Specific details on the new model are yet to be revealed. Reports say it will carry over a similar engine lineup as the current model, although some revisions are likely to make the petrol and diesel units more efficient, and possibly more powerful. A six-speed auto might also join the range, replacing the current five-speed auto in the diesel.
Full details are expected to be released any day now. There was talk of an official unveiling in Thailand taking place in March, but that obviously hasn't happened. We'll keep you updated.