Hyundai has developed an all-new, high-tech, rear-wheel drive model which promises a thrilling open-air transportation experience.
It's based on a concept that was unveiled at the CES event in 2017. And yes, we know, it's a scooter. But at this point we should tell you that Hyundai is considering mounting the scooter into future Hyundai and Kia vehicles to enable "first- and last-mile mobility".
Although it is just a prototype at this stage, it does lay the foundations for a new model. The company has previously offered a similar device, only it used a front-wheel drive system. For the new model engineers have worked in a rear-wheel drive setup, for a sportier ride experience (not officially the reason).
Powering the new beast is a 10.5Ah lithium battery which provides enough grunt to dust of 0-100km/h in just… erm. Hang on. We're not used to this. Let's start again. The battery system offers a top speed of 20km/h. On a single charge the range is around 20km, which is not bad at all.
Other cool highlights include a front suspension system so the ride is smooth, and there's LED headlights and two taillights. Hyundai even has plans to integrate a regenerative braking system into the powertrain, which it says could increase the range by 7 per cent.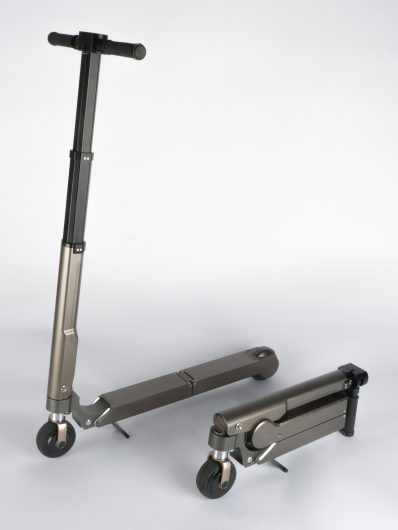 The entire thing weighs just 7.7kg and can be folded up thanks to a compact tri-folding design. A digital display shows the battery level and speed. Speaking about the contraption, DongJin Hyun, head of Hyundai Motor Group Robotics Team, said:
"This is the vehicle-mounted personal scooter which could be featured in future Hyundai Motor Group vehicles. We want to make our customers' lives as easy and enjoyable as possible. Our personal electric scooter makes first- and last-mile commuting a joy, while helping to reduce congestion and emissions in city centers."
It's a serious business to get into. According to research data by global consultancy McKinsey & Company, this 'last mile' market in the US, Europe and China is expected to grow to become a US$500 billion industry by 2030.
As for the possibility of vehicle integration, Hyundai says the scooter could be mounted to vehicles and be charged automatically from electricity produced while driving. It seems like a great idea to us. Check out video below for more.