This is not really a 'Cool Find' per se, it's more of a cool dream collection. A private collection of 57 cars, including some of the rarest and most exotic supercars ever to be produced is going up for sale. To name a few, there's the full string of Ferrari anniversary specials, including the Ferrari F40, Ferrari F50 and Ferrari Enzo, as well as a Jaguar XJ220, and a Cizeta V16 prototype.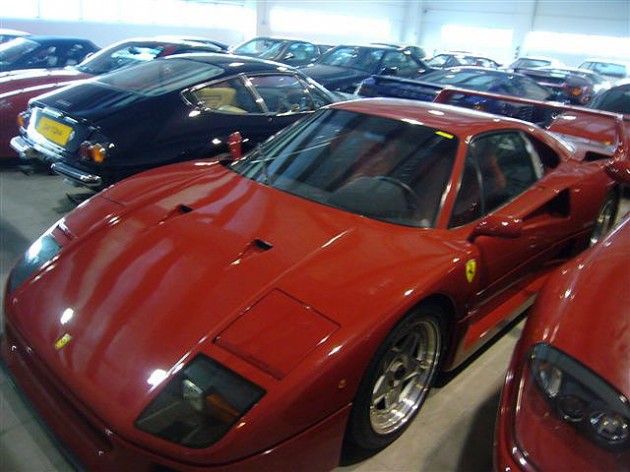 All 57 supercars owned by the private collector are up for sale and "will be sold". Obviously, there's a sense of urgency to sell all the vehicles, but what better way to capitalise on a great supercar bargain. According to the owner's website, all vehicles come with extremely low kilometres on the clock, with most featuring only delivery travel.
In amongst the mix is a pretty much brand-new 1995 Ferrari 355 Challenge, 1 of only 108 ever produced, with just 50km on the clock. It's up for sale at just NZ$125,000 (approximately AU$98,156, after a straight conversion).
Or how about an extremely rare, 1 of 3 1993 ItalDesign Nazca supercars featuring a 5.7-litre BMW V12 engine capable of 320km/h. It's up for sale at US$1,150,000 (approximately AU$1,157,537).
According to the website,
"The vehicles have been mostly held unused in the collection since delivery and are secured in our private garages.

"This is the first time ever that our private supercar collection is offered for sale – now all 57 vehicles are available and will be sold.

"This is an unique chance to acquire some of the world's finest and rarest supercars mostly still in new, unused, original factory condition.

"Unless otherwise stated all vehicles are still unregistered from new and have only the original factory delivery mileage (kms).

"For privacy and security requirements, viewing will be available to genuine purchasers only and is strictly by appointment."
Head over to ferraricollectionforsale.com for more details. Other stunning supercars up for grabs in the collection of 57 include:
30 Ferraris (Enzo, F50, F40, 599, 575, 550, 430, 456, 360, 512, 355, 348, 308, Mondial, 246 Dino, Daytona)
6 Lamborghinis (Countach 25th, Diablo V12, Diablo SE30, Diablo VT Roadster, Gallardo Spyder)
Jaguar XJ 220
Cizeta V16
ItalDesign Nazca V12
Porsche 911 Turbo S Lightweight
Porsche 911 C4S Cabriolet
Aston Martin Vantage
Rolls Royce Seraph V12
Rolls Royce Phantom
Rolls Royce Phantom V (1967)
Rolls Royce Silver Spirit 3
Bentley R Type (1953)
Bentley Arnage Twin Turbo
Mercedes Benz DTM AMG x 2
Maserati Trofeo Race Spec
Maserati Quattroporte V8
KTM X-Bow
Bugatti T54 Grand Prix (1931)
Mustang Mach 1 Super Cobra Jet (1970)
BMW 750 L7 Limousine V12