The upcoming Tesla semi-truck has been previewed, revealing its front-on silhouette, headlamp and LED cluster shape and other details.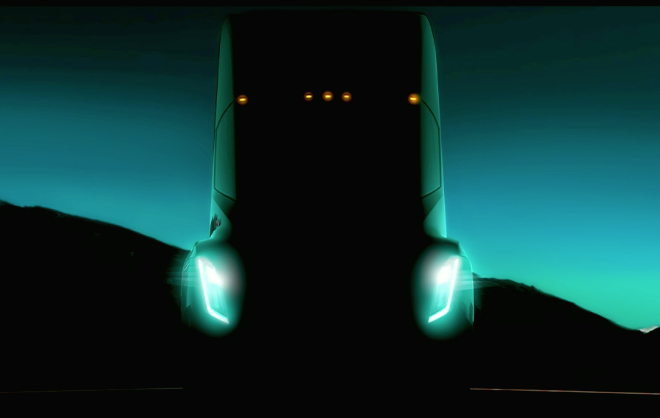 After having announced the vehicle will be fully revealed this coming September, Elon Musk dropped this cheeky teaser, with the facade all but blacked out, against a mountainous twilight backdrop. From what is visible in the picture, it appears much more sleek and advanced than the trucks of today.
Elon Musk showed the teaser during a TED talk, saying; "This will be a very spry truck, you can drive this around like a sports car." It is a working prototype, according to the billionaire, who also had the opportunity to drive it around the parking lot.
The truck will feature large quantities of battery cells to supplant the predominantly diesel-powered truck fleet of today. These are expected to be manufactured at Tesla's Gigafactory in Nevada.
The other big aspect that some truck drivers are worried about is the autonomous capability promised in the truck. Some analysts have already predicted this will be a key disruptor in the industry.
Tesla will showcase the truck's' ability with an autonomous drive from one side of the USA to the other. There is also a pick-up truck on the way within 18 months, potentially giving F-150 and co. something to worry about.
Musk will no doubt reveal more tidbits leading up to the truck's September reveal, so keep checking PerformanceDrive for the latest updates.