A special FPV Concept GT black-on-black is now on show at the 2011 Australian International Motor Show in Melbourne. This is Holden versus Ford as its greatest, with HSV unveiling a Black Edition Clubsport concept earlier this morning.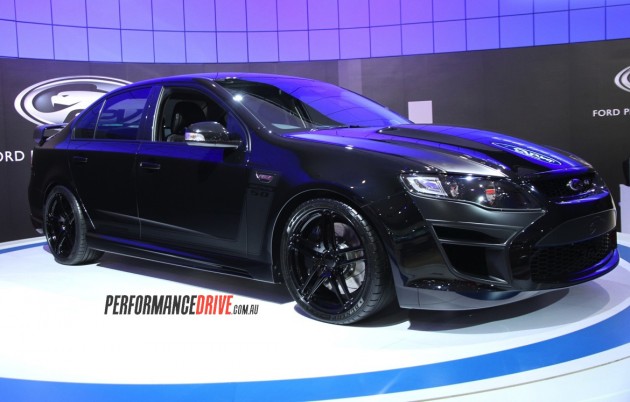 It shows off that distinct black theme. Everything's black. The new lightweight 19-inch wheels, the matte black stripe that runs down the front guards and along the bottom of the front doors. FPV have also blended a neat new bodykit to the concept. Although it just looks like the normal FPV GT, there's subtle clues, other than the black of course, that tell it apart.
Looking at the front, there's a special honeycomb grille in the lower chin and huge new side air intakes. While at the back, there's a big rear wing with a central mounting pillar and matching matte black 'GT' decals on the edges. Overall, it's very black but very cool. It reminds us of the Mad Max XB GT Falcon; plenty of attitude. We bet it huffs and gruffs when it's in traffic, like it's impatient and wants to punch something.
Providing the 'fist' of this furious concept is pretty much the same 5.0-litre Coyote supercharged V8 capable of unleashing 335kW at the prod of a pedal. The rear Dunlop Sportmaxx GT tyres wouldn't stand a chance against the 570Nm of torque on board, no matter how hard they want to try.
Some specialty pieces for the new concept include lowered track suspension and a stainless steel exhaust system with four, you guessed it, black tips at the back. The package also uses six-piston front and four-piston rear brakes. Ford Performance Vehicles, General Manager, Rod Barrett said in a recent press release report,
"Taking our iconic FPV GT, we have put together a package of performance and design enhancements to demonstrate what could be done by FPV in the future.

"The black-on-black treatment looks spectacular and it really changes the look of the car, so I'll be very interested to hear what FPV enthusiasts think."
Unfortunately, Ford's performance division will not be putting this black beast into mainstream production any time soon. The company says it will be watching the reactions of the enthusiasts though. This could mean some aspects, or the entire concept, may spawn into some sort of limited edition.
Out of the two new concepts though, which one do you think best represents Aussie muscle? Holden or Ford?