It looks like the awesome, current-gen FK Honda Civic Type R is about to receive some mild updates to keep it fresh among an ever-improving and ever-growing set of rivals.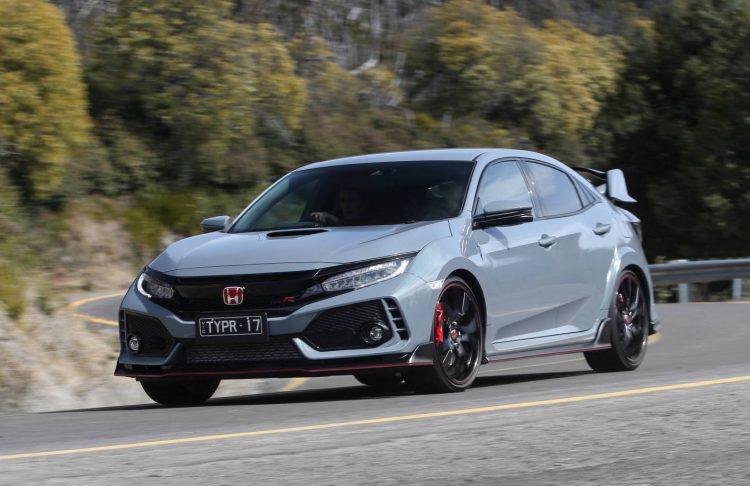 Since the current-shape Civic Type R (review here) launched last year, Hyundai has introduced the cracking i30 N hot hatch and is giving it to buyers at a price that's around $10k less than the Civic. Although, it is less powerful and not as quick as the Type R. Renault will soon introduce the new Megane RS as well, which is expected to continue the nameplate's tradition of being one of the best hot hatches in the class.
According to overseas reports, such as one by Autocar, Honda is currently testing prototypes of the facelifted model. It's understood Honda is going to make some minor tweaks to the car to improve practicality, while ensuring the record-breaking driving dynamics remain in place.
An area that is expected to be updated is the infotainment touch-screen. Honda introduced a revised version of its system for the latest CR-V, featuring a conventional volume knob as opposed to the  annoying up/down button setup in the current Civic range (CR-V touch-screen pictured below, Civic Type R underneath).
Aside from that, the interior is likely to be left untouched as it is already regarded as providing one of the best environments for driving enthusiasts. The comfortable and supportive racy red seats are set to remain, while the general practicality of the boot space and rear seat legroom will remain unchanged.
For the exterior, it looks like Honda is applying some minor design tweaks to the front bumper bar, potentially for improved cooling and enhanced aero, while the rear will probably get similar treatment. Prototypes have been spotted wearing camouflage wrapping over the front and rear bumpers, suggesting such changes.
The Honda Civic Type R still holds the lap record at the Nurburgring for a front-wheel drive production car, posting a dashing lap in just 7:43.80. It's unknown if any of the changes will impact this time, for better or worse, with the engine output of 228kW/400Nm likely to remain. More details are expected later in the year.