It's always exciting when we get to sample the wares of a completely new carmaker. When the manufacturer in question is China's most popular SUV maker, Haval, we approach it with a greater sense of intrigue.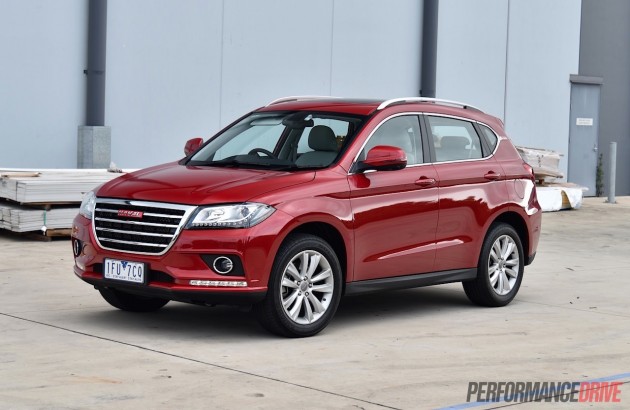 The Haval brand began its three-pronged assault on the Aussie market this year, with the Prado-sized H9, the intermediate H8 crossover, and the small/urban H2 as tested here. The company was spun off from Great Wall Motors – formerly imported by Ateco Automotive – and has grand ambitions to become as eponymous with SUVs as Jeep and Land Rover.
This is quite a monumental task when you consider the calibre of product we've seen before from the People's Republic; the aforementioned Great Wall as well as Chery spring to mind as pretty nasty examples.
Haval has set its sights higher and wants to be seen as a premium brand. The company is targeting 3000 sales this year, with a number of other launches expected throughout 2016. We're sampling its entrant into the wildly expanding small SUV segment to see if competitors should be threatened by this upstart.
The H2 consists of two model grades, two transmissions (six-speed manual or automatic), and is available with front- or all-wheel drive. This example is the front-wheel drive automatic in Lux guise. Prices start at $30,490 for this model (excluding on-roads).
Just one engine is on offer across the board in Australia; a 1.5-litre turbocharged four-cylinder petrol unit, with a very vocal turbocharger which we liked but may not appeal to everyone. It churns out 110kW and 210Nm, on a diet of 95 RON premium unleaded.
Haval H2 Lux – THE SPECS
Engine: 1.5-litre turbo four-cylinder
Output: 110kW@5600rpm / 210Nm@2200-4500rpm
Transmission: Six-speed auto
Drive type: Front-wheel drive
Wheels: F: 18×7.5, 235/55  R: 18×7.5, 235/55
ANCAP: Not tested
Tare weight: 1514kg
Power-to-weight: 13.7:1 (kg:kW)
Official fuel economy: 9.0L/100km
Economy during test: 8.7L/100km
Fuel capacity/Type: xL/x RON
Power efficiency: 12.2kW:L/100km
0-60km/h: 5.31 seconds
0-100km/h: 11.89 seconds
1/8 mile: 11.96 seconds at 100.2km/h
1/4 mile: 18.35 seconds at 126.7km/h
100-0km/h braking: 3.27 seconds at 42.54 metres
Decibel at idle: 39.7
Peak decibel at 60-100km/h: 79.0
Peak stereo decibel: 99.8
Priced from: $30,490
Haval H2 Lux – THE PACKAGE
China is a land of contrasts. For example, it is an open market capitalist on the global stage, but fiercely restrictive to what its citizens can say and do, monitoring them closely. There is also a wide-ranging class system from super rich to super poor. The H2 is also full of these contrasts.
From the exterior, we can see a good overall shape, with a modern pinched beltline and a bulbous shape that is similar to BMW's X1 and Audi's Q3. A bold and confident grille sits at the front, with excellent HID headlights. Proportionally, the H2 looks the part, with the oversized and abundant badging kind of spoiling the party.
In terms of size, the H2 sits at the upper end of the small SUV class. It has the largest overall length at 4335mm, compared with 4275mm for the Mazda CX-3 and 4278mm for the Holden Trax. Crucially, the H2 is the widest in its class too, at 1814mm – only 26mm narrower than a Mazda CX-5 in the next class up. Interestingly, at 2560mm, the wheelbase trails CX-5 by 10mm, and Renault Captur by 40mm, but still manages to be longer than Trax and Ecosport. This translates to decent rear seat accommodation and a feeling of overall spaciousness inside. Boot space is also quite large with a standard cargo blind and split-fold rear seats.
Another noteworthy fact is the front and rear track dimensions are identical to the agile CX-3 at 1525mm and 1520mm respectively, but the H2 weighs a portly 1514kg (tare). It is several hundred kilos heavier than the CX-3 and approaching mid-size SUV territory. This has handling ramifications – we will expand on that later. Braked towing is class competitive at 1200kg, while a full-size spare is a pleasant discovery indeed.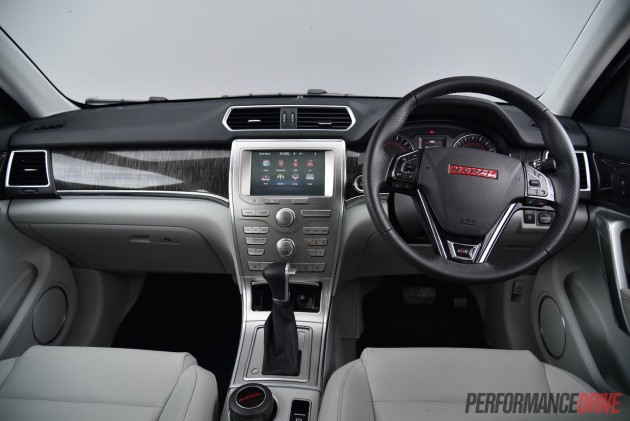 Equipment is definitely where Haval is going for the jugular, with keyless access, nice-smelling leather seats, live tyre pressure monitoring, electric sunroof, a full suite of safety features, hill-descent control, and a nifty side-view camera to help with kerbside parking, all standard on this Lux variant. At night, a "HAVAL" logo is projected from the mirrors onto the ground for a very nice touch, essentially copying Range Rover.
Interior presentation for this model is certainly a mixed bag. The layout is reasonable, the leather seats and door inserts are of high quality, but the centre stack and its switches resemble a giant novelty calculator. It protrudes inelegantly from the dash and is bisected by some of the nastiest-looking plastic panels with some kind of glossy effect which does not exude luxury. The colour theme of our car was quite garish, but other combinations are available.
On a positive note, the soft-touch material atop the dash is top notch and the steering wheel generally feels good. The electric-adjustable driver's seat is comfortable, albeit with limited height adjustment.
The infotainment screen has inconsistent graphics, and the popup for climate control has a digital old-school look and is borderline comical, as is the Haval-branded ashtray. Satellite navigation and Bluetooth streaming are glaring omissions, which made the absence of a CD player disappointingly apparent. The screen is also subject to glare and can become impossible to read on a sunny day. Audio quality is pretty decent though from the six-speaker system, recording 99.8dB at max volume in our test.
Haval's range has not been tested by ANCAP yet, but with a full suite of airbags and a solid-feeling body, you shouldn't have any major concerns about the H2's passive safety and crash/impact performance.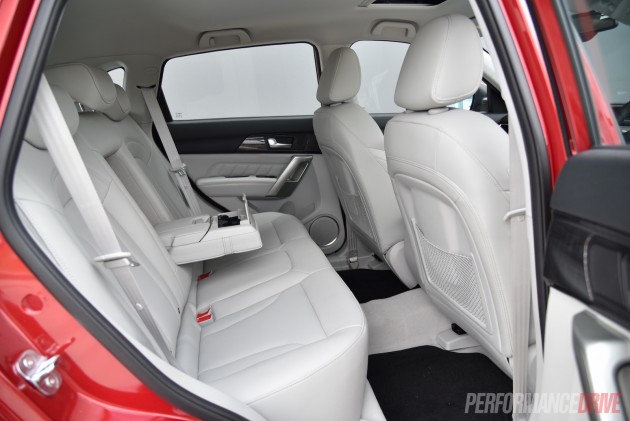 Haval H2 Lux – THE DRIVE
The mixed bag theme continues for the driving impression, with a stark contrast between low and high-speed behaviours.
Around town, the H2 is manoeuverable and benefits from direct (but lifeless) steering. A feeling of narrowness is a virtue in tight streets, but the steering can be heavy at parking speeds. Ride is good, and the damping is well balanced, with large bumps never crashing through the cabin.
At freeway speeds, things become different with an unnerving sense of diagonal weight transfer and reticence to change direction suddenly. The steering becomes lumpy and indirect, as though the front tyres are under-inflated. As a result we weren't really game to subject it to a sudden change of direction at speed. It is equipped with switchable stability control but we never felt it engage.
Around a twisty mountain road the H2 does possess some body roll but remains somewhat composed, eventually pushing wide under pressure. Grip levels are surprising though. If there is an uphill section, the engine becomes strained and breathless, losing momentum as it drops below 2000rpm. It becomes a less enjoyable drive in these conditions. This is also a consequence of the H2's weight. Having said that, the brakes hold up pretty good after repeated stops, although their performance is far from class-leading. We stopped from 100km/h in a best of 3.27 seconds, covering a heavy-duty-4×4-like 42.54 metres.
Speaking of the engine, the 1.5-litre is reasonable off the line (unless cold, where it suffers a few dangerous delays at intersections), and has a nice surge between 2000 and 4000rpm. A 0-100km/h time of 11.89 seconds isn't exactly where a 1.5-litre turbo should be though. When overtaking there is a CVT-like sensation from the engine revving out without forward progress, while the lag of the turbo sometimes had us wondering if the turbo pipe had actually fallen off.
The interior is well insulated and quiet, recording just 39.7dB at idle and 79dB under full throttle, with the turbocharger always audible – much to the delight of enthusiasts like ourselves. The turbo whine was accompanied by a strange rattle during some of our drives.
Real-world economy figures are okay, with an average of 8.2L/100km, undercutting the 9L/100km official average figure. The accuracy of the on-board gauge is questionable though as it never went above 10.1L/100km during our test, even when worked hard.
The cruise control includes a digital speed display when activated, but oddly there is no digital speedometer. It also creeps several km/h above and below the set speed, so you do need to be vigilant.
Haval H2 Lux – THE VIDEO
Haval H2 Lux – THE VERDICT
So, should the Haval H2 be on your shopping list? Put it this way, it's not exactly premium but certainly premium by Chinese standards. It could benefit from a diesel engine, some steering calibration, less cheesy colour schemes and a more modern centre stack.
These would go some way to reflecting its premium price positioning at $30,490 as tested. The opening manual 2WD Premium of $26,490 is closer to the mark but still a bit too high in our opinion considering the vehicle's fundamental flaws. If driving prowess is important to you, there are better drives in the class, such as Mazda's CX-3 and Honda's HR-V.
As for reliability, that's somewhat of an unknown quantity at the moment but keep in mind Haval couldn't have achieved the success at home without having this sorted.
Overall, for a first effort Haval is pretty close to the mark and some of its flaws give the H2 personality. Nonetheless, Haval has successfully established an identity of red colours and upmarket styling cues and a solid foundation to work from. We think its goal of 3000 cars a year is eminently achievable, but encourage engineers to make some subtle refinements.
PROS:
– Generous interior space
– Comfort, decent noise insulation, some nice interior textures
– Good equipment list and premium features
– Decent stereo
– Modern styling

CONS:
– Some cheesy colour and material choices
– Lack of Bluetooth streaming and sat-nav
– Dated centre stack design
– Highway driving manners, and lack of emergency manoeuvrability
– Breathless engine at low speed, sometimes stutters, big turbo-lag
– High official average fuel consumption rating for class (9.0L/100km), bad power efficiency too
– Unproven reliability and resale