You might remember the other day we showed you an OK-ChipTuning package for the cracking Audi TT RS. It seems another company, called HPerformance, has come up with a stronger tune with even more power.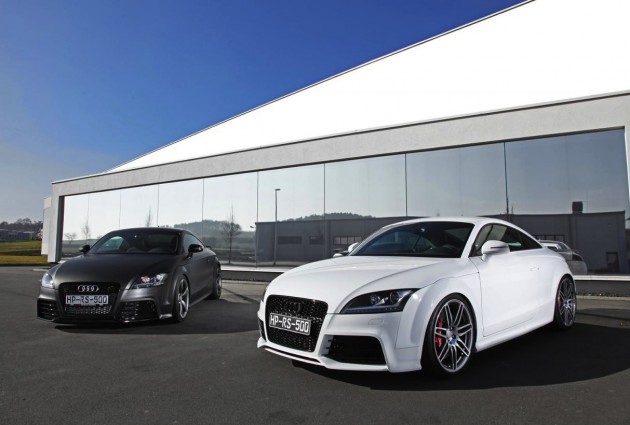 The company has developed two show cars to demonstrate the potential performance, including a matt black example and a bright white version. Both have been modified to similar specs.
Starting with the engine. Audi's 2.5-litre turbo five-cylinder is an awesome unit in standard form. Thanks to a fresh aluminium intercooler, an 80mm intake pipe and customised intake manifold, a HPXT-510 turbocharger, and engine computer tweaks in co-operation with Siemoneit Racing, the howling unit now produces 368kW and up to 710Nm. The figures rise from the factory 250kW/450Nm rating.
To make the machines even more enjoyable to drive, there's also a valve-controlled high-flow exhaust system with HJS cats, a high-performance clutch with a single mass flywheel, Bilstein B16 coilover suspension at all four corners, H&R stabiliser bars, and Audi R8 ceramic brakes.
As we've said before the Audi TT RS is one of the most exciting new-model coupes on the market for the price. It's also one of the quickest. A comprehensive tune like this would be fantastic to drive.
HPerformance mentions a 522kW package is on the way. Hold on for dear life.