Hyundai's luxury brand Genesis will soon depart further away from the parent company and offer its own unique models. Such models include the G70 (sister car to Kia Stinger), G80, and G90, but now we hear there could be 'GT' coupe models and 'GV' SUV models on the way.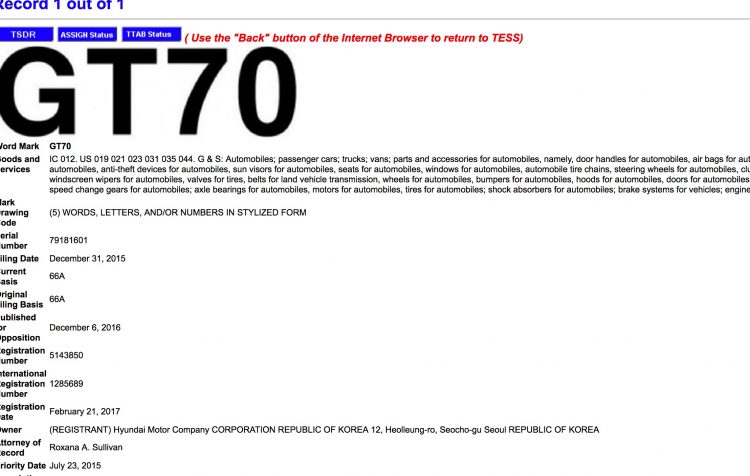 Some patent applications have been found in the U.S., outlining nameplates GT60, GT70, GT80, and GT90. These are said to be reserved for future coupe models, underpinned by the corresponding sedan models.
According to the United States Patent and Trademark Office, the trademarks were registered in February this year, following initial filing back in 2015. They were submitted by Hyundai Motor Company, and cover automobiles, including passenger cars, trucks, vans, and parts and accessories.
Filing a trademark for a name doesn't necessarily mean the nameplate will definitely be used for a future showroom model. There is the possibility Hyundai is simply registering the names so no other carmaker can come in and use them. However, it is a pretty good indiction of things to come.
Genesis has previewed a few interesting coupes and sports cars over the past couple of years, including the New York Concept four-door coupe which is believed to preview the first mid-size sedan and coupe, which we now know could be called the G70 and GT70.
A product timeline presentation surfaced online earlier last year, essentially confirming two new SUVs as well. It looks like there will be a mid-size luxury model to take on the likes of the Audi Q5 and the such, arriving in 2018, while a smaller SUV is set to arrive by 2019. These SUVs are set to adopt 'GV' names, as indicated by similar trademarks.