The NSW Impreza WRX Club hosted its first motorkhana event on the evening of Saturday February 18, attracting 24 driving enthusiasts to Eastern Creek's wet skid pan.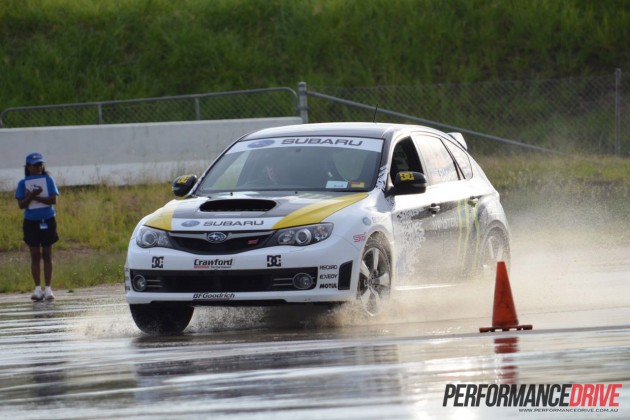 Although the event was inclined for Subaru vehicles, a number of other models were also invited, including a Holden Commodore SS ute, a few of Mitsubishi Lancer Evolution rivals, and even a stock Mazda6.
The motorkhana course was designed with witches hats and barrels marking out a tight course. Drivers were only given time to memorise the layout before being let loose in a series of head-to-head battles.
Instead of a time trial system, the motokhana event used a point system; each winner earned one point. After a few rounds, the slower guys were soon phased out and the racing really started heating up. You could tell how serious it was getting as the rounds passed by; the sympathy drivers once had for their clutches was gone. It made for some spectacular all-wheel drive drifting.
During the first lot of runs, some drivers went flat out, while others took it easy to avoid hitting a cone and receiving a five-second penalty, or, even worse, getting a WD – wrong direction – which instantly dropped drivers to last place on the board.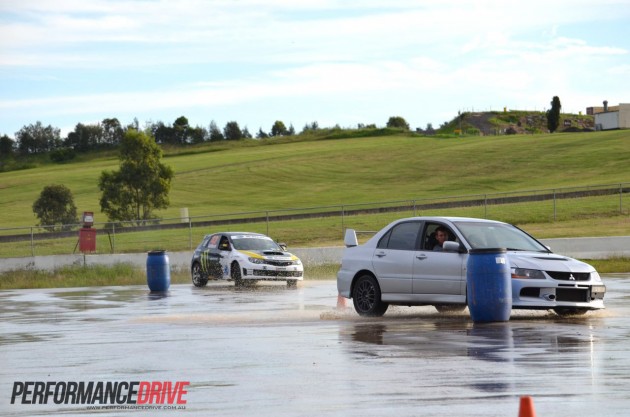 Adrian in his silver 1996-1998 WRX in particular wasn't shy about redlining the 2.0-litre turbocharged boxer engine and dumping the clutch for some aggressive all-wheel drive launches. A red WRX, running a 2.5-litre turbocharged engine producing 271kW at the wheels also demonstrated some very impressive launching starts.
Overall, it was amazing to see just how quick the all-wheel drive layouts were getting up and sprinting straight off the line, even in saturated conditions.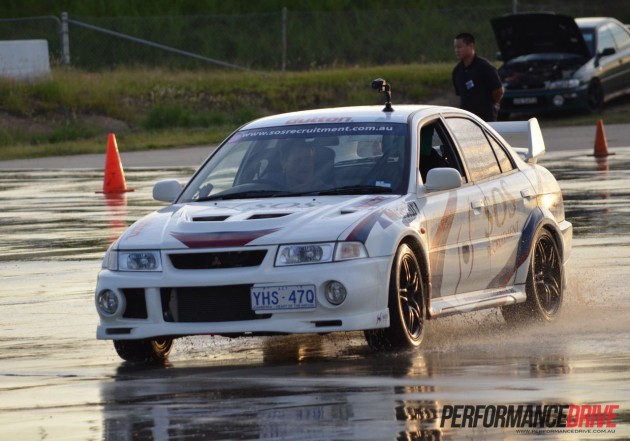 PerformanceDrive spoke with a number of the drivers about top tips for this style of racing, and it seemed being a master at the take off was up there in high priority, which required the perfect combination of revs and clutch release. Drivers also pointed out that resisting the urge to watch opponents while running was also important.
John Malkovich in a heavily-tuned Mitsubishi Lancer Evolution VI said, "don't forget to dump the clutch when you're releasing the handbrake. That's critical in an all-wheel drive [laughing]". He said bogging down can become very frustrating. John kindly gave us some video footage of one of his runs, taken by a Drift HD camera mounted on the roof of his Evo. Check it out below.
It seemed a lot of drivers took on the same philosophy, swinging their cars around the barrels with surprising levels of finesse and throttle control. Plenty of the field were also maintaining some impressive zero-counter-steer slides in rally all-wheel drive fashion.
Some of the cars competing included an awesome-sounding Subaru SVX, which uses a 3.3-litre naturally aspirated flat-six engine, as well as a super-rare Subaru Impreza 22B featuring – at minimum – a roll cage and some lightweight Volk Racing wheels. Event organiser Graham Adam and his third generation Subaru Impreza WRX STI with full Ken Block Monster Energy livery also stood out, showing some Ken Block-styling drifting.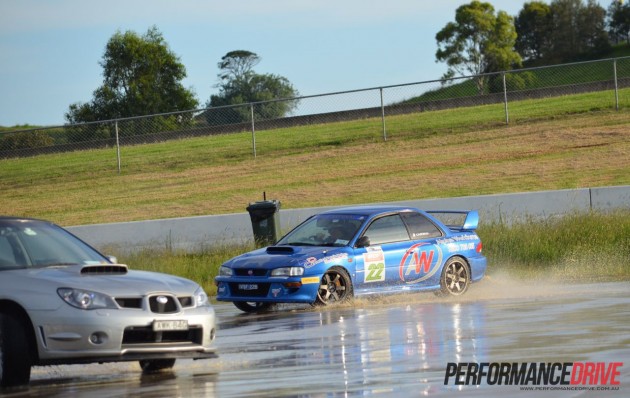 In the end, it was down the three top contenders: Adrian in his worked first generation silver WRX, Craig in his silver MY05 WRX STI, and John in his Mitsubishi Lancer Evolution VI. John managed to just snag Craig in the first elimination round, and then took out Adrian in the second elimination round too. Craig and Adrian also ran against each other. Ironically, it was John and his Evo taking the win.
Like most events like this, it wasn't all about the winner; it was about the gathering of a bunch of enthusiasts, testing out pieces of well-engineered machinery. It was a great event, with only one minor incident involving a light tap against the wall.
Graham Adam said that the event was a bit of an experiment to test out how it would all run, and to determine if more motorkhanas could be set up like this in the future.
Nick Goring, club president, also said,
"This was an exploration of a new format for the WRX Club and one that was a huge success. Having seasoned drivers as well as newer members compete like this was as educational as it was entertaining. This type of event will most definitely be run again in the near future!"
We hope so, it was a great gathering of people and cars, and we would like to thank them for inviting us.
Now, sit back, relax, and enjoy just under five minutes of thrilling yet soothing WRX Club Motorkhana skid pan action below. There's also various images of the event after the video, with more images still to come…