Genesis is previewing its first foray into the luxury SUV market with the just-revealed GV80 concept vehicle, unveiled at the New York auto show currently underway.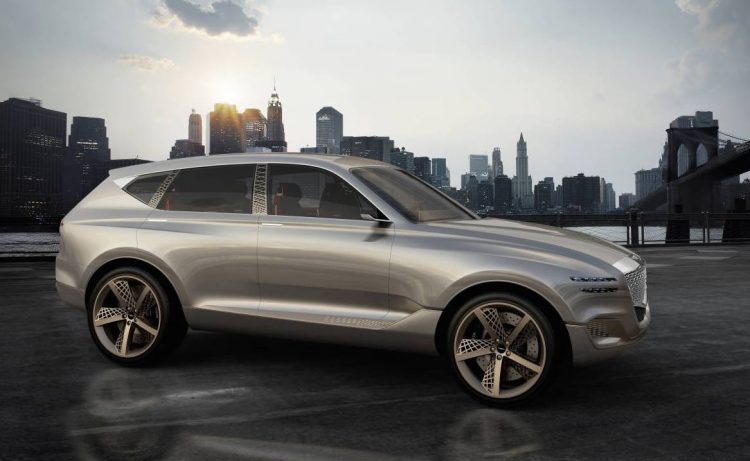 The GV80 isn't just a luxury SUV concept though, it also demonstrates a high-tech plug-in hydrogen full-cell powertrain. Strangely, the company hasn't elaborated on the powertrain, simply saying that the concept utilises the "latest plug-in hydrogen fuel cell" technology, offering eco-performance and capability.
Genesis says it will continue to study the benefits of similar alternative propulsion technologies for future products, without locking in any definite plans.
But anyway, the idea of a Genesis SUV is a first, with the GV80 expected to inspire the design of the brand's first SUV set to arrive before 2020. The design gives off a clean, modern theme while showcasing some breadth of multi-terrain capability.
Genesis says the concept is defined by a parabolic line that reinforces the confident side profile, while the big 23-inch alloy wheels boost the overall road presence while providing cooling to the brakes.
For the interior there's a 22-inch OLED curved screen display set in the instrument panel, overflowing to the driver's cluster to show classic-style speedo and gauges. Versatile storage compartments are located in the doors for added convenience, and a large centre console runs between the front and rear seats for a luxury four-seat layout.
Although this concept isn't set for production as is, the Hyundai-owned luxury brand says it does reflect the distinct design elements of future models. Head of Genesis Brand, Manfred Fitzgerald, said: "This concept is an important milestone for the brand to share our vision of the future, introducing a further expansion of our product portfolio."