The all-new, 2019 Toyota RAV4 has landed in Australia, with an 11-strong field set to really shake up the mid-size SUV market segment. For the first time in Australia, the RAV4 is being offered with a hybrid powertrain which should also assist with market appeal in this class.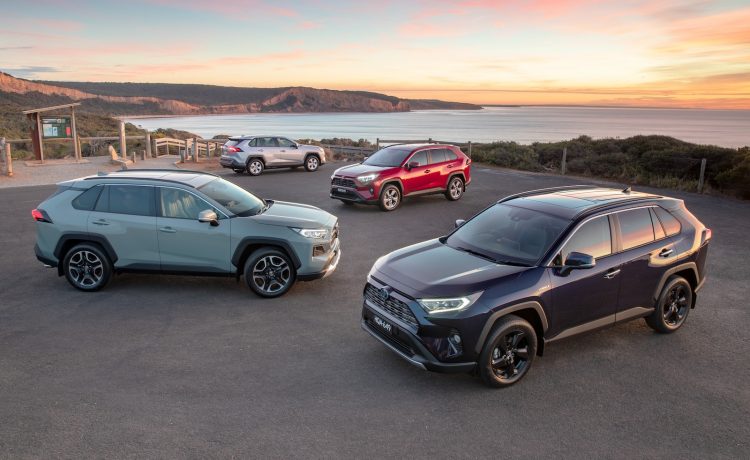 Toyota Australia confirmed the lineup details earlier this year. Basically, the gist of it is the range spans from the GX, GXL, to the Cruiser. However, there is a new bespoke variant at the very top called the Edge. The Edge is designed as a more rugged option suitable for some off-roading.
At minimum, the new RAV4 is powered by a 2.0-litre naturally aspirated four-cylinder petrol that produces 127kW. This is available in all three of the main variants. All three are also offered with a new 2.5-litre four-cylinder hybrid that produces a strong 155kW.
For the Edge variant it gets a unique 2.5-litre petrol (non-hybrid), producing 152kW. However, unlike all others which come with a CVT auto (one manual transmission option is available for the base model), the Edge gets an eight-speed automatic. This also comes with all-wheel drive, while the others are offered in both FWD and AWD form.
All models are underpinned by the Toyota New Global Architecture, which is essentially Toyota's latest platform. It helps to provide improvements in driving dynamics, efficiency, and safety, and brings in an additional 30mm length for the wheelbase over the predecessor, helping with in-cabin space. The new platform comes with revised MacPherson strut front and a new multi-link rear suspension setup. Cargo space has also been extended, by 65mm, taking overall volume up to 580L (up from 577L).
As standard, all variants come with an 8.0-inch touch-screen multimedia interface, with digital radio, a rear-view camera, and full Bluetooth connectivity. All models also come with front and rear parking sensors, blind-spot monitoring, rear cross-traffic alert, and at least seven airbags.
The new model is on sale now from the following prices (excluding on-road costs):
2019 Toyota RAV4 GX
-127kW 2.0L petrol, 6-speed manual, 2WD: $30,640
-127kW 2.0L petrol, CVT auto, 2WD: $32,640
-155kW 2.5L hybrid, CVT auto, 2WD: $35,140
-155kW 2.5L hybrid, CVT auto, AWD: $38,140
2019 Toyota RAV4 GXL
-127kW 2.0L petrol, CVT auto, 2WD: $35,640
-155kW 2.5L hybrid, CVT auto, 2WD: $38,140
-155kW 2.5L hybrid, CVT auto, AWD: $40,140
2019 Toyota RAV4 Cruiser
-127kW 2.0L petrol, CVT auto, 2WD: $39,140
-155kW 2.5L hybrid, CVT auto, 2WD: $41,640
-155kW 2.5L hybrid, CVT auto, AWD: $44,640
2019 Toyota RAV4 Edge
-152kW 2.5L petrol, 8-speed auto, AWD: $47,140