Fiat has unveiled a strange concept SUV at the Sao Paulo Motor Show called the Fiat FCC4. It shows a possible future direction for a four-door coupe SUV with hybrid power.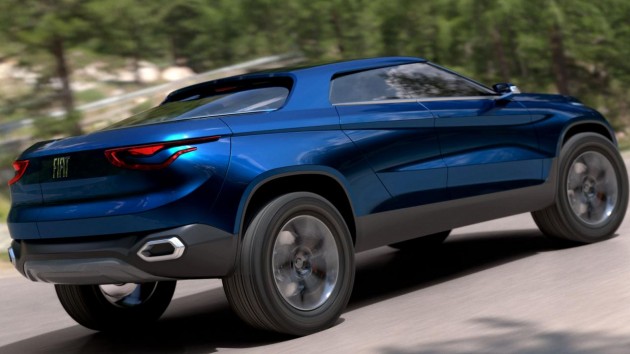 The design study was developed at the Fiat Design Centre Latam (Latin America), featuring a unique raised up body with four doors, generous dimensions, and a sleek low profile. Fiat is calling it a "four door coupe with an adventurous spirit".
At the front there's a set of perched up headlights and a wide mouth, with an overall stance similar to the Range Rover Evoque. Along the sides are some muscular lines, a 'chopped' glasshouse area, and puffy wheel arches for a wider and more aggressive look.
Around at the rear showcases a fastback layout with unusual asymmetrical doors, LED taillights, and a chunky under section with integrated exhausts and an aluminium protection area.
Fiat hasn't mentioned specifics about the powertrain, only saying that it "treads hybrid paths", suggesting an eco-friendly engine of some kind sits under the bonnet. Dimensions are mentioned though, comprising of 5.0 metres in length, 1.94 wide, and 1.6 metres tall.
There are no plans to put the FCC4 (Fiat concept car) into production, however, it does show what Fiat could do for the booming SUV segment further down the track.