Pagani is planning a hardcore edition of its Huayra hypercar as predicted, with an official teaser image released on social media. It's set to be called the Huayra BC.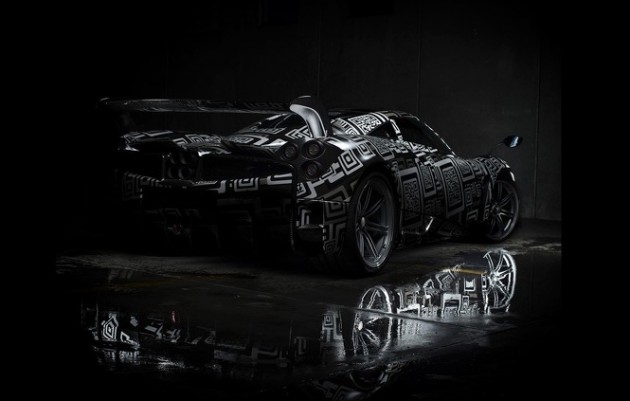 The exotic carmaker used its Facebook page to release an image of a camouflaged Huayra, with the hashtag huayrabc. Despite the confusing paintwork it's clear to see the model will come with hardcore aero treatment and track-ready tyres.
We recently saw a prototype cracking around San Martino del Lago circuit in Italy, showcasing a massive fixed rear wing, chunkier rear diffuser, and a lower and more aggressive front splitter system.
It's believed the Huayra BC won't just come with an aerodynamically tweaked body either, but also a more potent engine. The 6.0-litre twin-turbo AMG-derived V12 could be boosted up from the current 540kW output.
With stickier tyres and potentially some weight reduction through interior stripping, the BC is expected to post quicker acceleration figures and faster lap times compared with the regular version, although nothing has been officially confirmed at this stage.
Pagani is probably waiting for the Geneva Motor Show in March to unveil the new version, with production likely to be capped to around 20 units. It's unknown what "BC" stands for.